---
President's Message
Dear SPE-STX Members,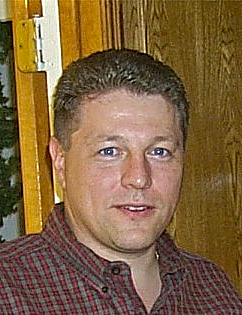 We all hope that everybody had a safe holiday and is off to a great start in 2020. SPE-STX started the year with the January meeting covering Laser Printing of plastics parts and components on January 30 at the Houston Technology Center. We are hoping that our members enjoy the broad array of topics covered at these meetings.
The Polyolefin Conference 2020 is nearing fast and will take place on February 23rd-26th at the Hilton North (Greenspoint) Houston. Members can find more information or to register on our website.
We anticipate record attendance and if unable to register for the conference, I am inviting SPE-STX members to stop by Monday afternoon to view the trade show exhibits and stay for the Welcoming Reception sponsored by PMC (Donatello Ballroom Upstairs) starting at 5:30 PM. I ask that SPE-STX members stop by the registration desk before 5 PM to get their free badge.
Employers should want their employees to be SPE-STX members and to gain access to industry experts and professionals at these networking events; (must be current SPE-STX members to get a free Exhibit Hall Registration).
Depending upon interest from corporate sponsors and attendees, SPE-STX will again investigate holding a spring golf event in April or early May. Let us know if you would like to help with this event. As many of you know all events hosted by the SPE-STX contribute to the financial support to many young professionals and educational institutions throughout Texas. We hope we can count on your support.
I am reminding our SPE-STX members that we do hold a networking breakfast meeting the first Tuesday of each month at 7AM at the IHOP restaurant on Washington Ave, (I-10), Houston, TX. See our calendar to confirm future dates.
Sincerely,
Peter Lauzon, President

---
The SPE South Texas Section is dedicated to supporting education with the International Polylolefins Conference
There are 9 universities in Texas who have polymer programs and a SPE Student Chapter that benefit from SPE South Texas. Over 50% of the South Texas earnings from the SPE International Polyolefins Conference are used to support the education program which runs $50,000 to $95,000 per year.
The following educational programs are supported:
Each University SPE Student Chapter receives $1,100 to $1,400 to support their activities which involve meetings with guest speakers and field trips. There are 9 SPE Student chapters (University of Houston, Texas A&M, University of Texas, Lamar University, Baylor University, North Texas University, Texas State University, Texas Tech University, Texas State Technical College Harlingen).
Depending upon funds available, each of the 9 Universities with SPE student chapters receives $2,000- $3,000/year for student scholarships which is administered by the University.
We have a dedicated group of people who judge at the Houston Science Fair and award prizes to students that range from $100 to $500 when the Science Fair does not conflict with the Polyolefins Conference. In May the Science Fair winner attend a South Texas monthly meeting with their parents and/or teacher to receive their awards. Edgard Chow is responsible for the science fair activities.
Active South Texas Section members can apply for scholarships for their children or grandchildren who live in Texas. Scholarships are up to $2,500 depending upon the number of qualified applicants.
We have created ten $25,000-$50,000 endowed scholarships over the last 40 years that the schools administer.

Texas State – Bounita Favorite Endowment
Tech Tech – Mark Demark Endowment
Lamar University – Bill Kuhlke Endowment
Texas A&M – Dale Walker Endowment , Henry Kahn Endowment
University of Texas – Marion Johnson Endowment, Larry Holmes Endowment
University of Houston – Frank Padula Endowment
Baylor University – Walter Bradley Endowment

When sufficient funds are available we have provided money for equipment at the Universities based on requests and sufficient justification.
In addition the South Texas SPE Section organizes the SPE International Polyolefins Conference in Houston every year. As part of the conference we:
Give free registration and room and board to 5 students from each SPE student chapter to attend the Polyolefins Conference every year

Have a free student dinner to talk about careers in plastics

Have a poster competition for University Students with prizes ranging from $100-$500

Award six $1,000 scholarships.
The South Texas Educational Liaisons serves an important role in providing an important communication link between the Universities and the South Texas Chapter. The following members presently served as liaisons:
Jeff Applegate – Baylor University (top 3 national SPE chapters 2015- 2019)
David Hansen – Texas A&M (top 3 national SPE student chapters 2014-2019)
Pete Lauzon – Texas Tech University
David Hansen – University of Houston
Aliene Elkins – University of North Texas
Glen Rasberry – Texas State University
Oscar Garcia – Texas State Technical College Harlingen
We need liaisons for the following schools:
University of Texas – new chapter as of last year
Lamar University – Fred Morita has covered this chapter for years and would like to retire
Please contact David Hansen if you are interested in serving as an educational liaision.
The faculty advisers for each school are important for the success of the student chapters. Our faculty advisers are:
David Jack – Baylor University
Hung-Jue Sue – Texas A&M
Greg Mckenna – Texas Tech University
Megan Robertson – University of Houston
Nankika D'Suouza – University of North Texas
Christopher Rhodes – Texas State University
Ricardo Limas – Texas State Technical College Harlingen
Nathaniel Lynd – University of Texas
Paul Bernazzani – Lamar University
The South Texas SPE section is proud to be supporting University student in polymer programs in Texas and students of our active Section members.



---

Polyolefins Conference 2020
The SPE International Polyolefins Conference is the largest Polymer Conference in the world dedicated to Polyolefins. The Conference is a great place to meet your customers, your suppliers, and your associates as well as hearing about the latest Developments and Technology. There are typically over 700 people attending the conference which will have 84 technical papers, 5 Keynote Plenary talks, a Sunday afternoon Polyolefins Tutorial, 64 exhibitor booths, two evening networking socials, and a student poster competition.
The exhibits will run from February 23-26. Stop in and see your Section in actions.



---


---
Informative "The Art of Laser Marking" Talk for Brand Protection was Hosted by South Texas Section
The evening featured an informative talk given by Brock Young of Videojet.
Laser coding has the ability to provide a non-contact application of permanent high-resolution mark that is more resilient than traditional coding for better brand protection and code recovery.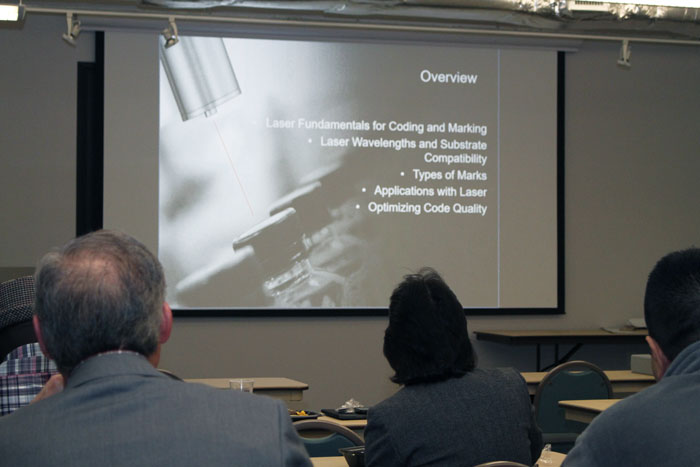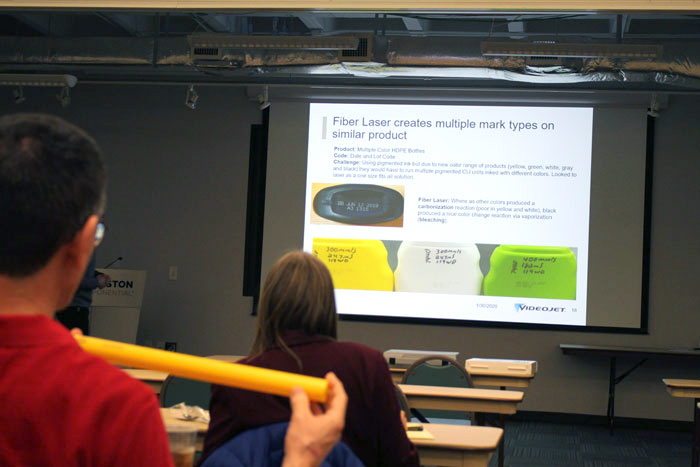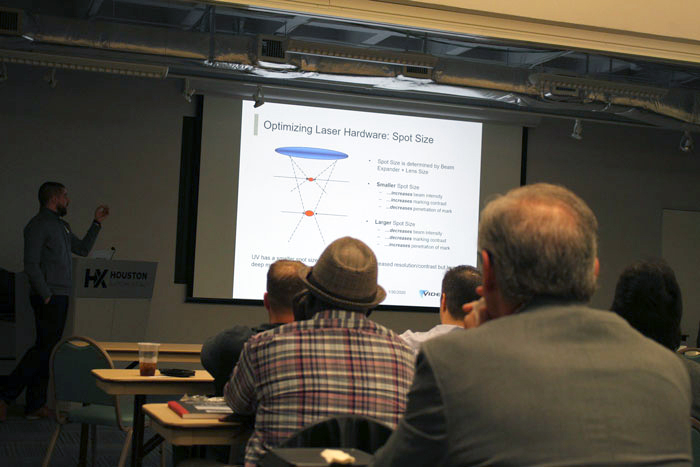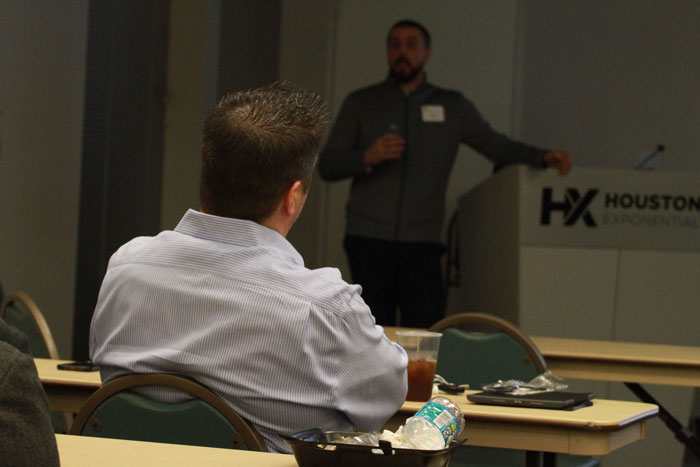 ---

---

---
The Use of Recycled and Waste Materials in Selected Automotive Applications
Karnik Tarverdi, Peter Allan, Paul Marsh & Jack Silver
Wolfson Centre for Material Processin, Brunel University London, UK
Abstract
This report is an account of a project that went under name 'Light AND Sound' or the acronym 'LANDS'. The objective was to investigate the potential use of recycled and waste materials in automotive components. Five components were selected for the investigation. All of them had the potential to be manufactured from waste and recycled materials. The trial materials which included recycled polypropylene and a particulate industrial solid waste stream, were processed into prototype components that were evaluated and compared with the respective production counterparts. Finally a life cycle assessment was carried out for each prototype component that was also compared with the current part. The overall results indicated a clear potential for the use of the project materials in their respective application.


---
South Texas SPE 2019-2020 Board Meeting
Minutes of the Meeting of the South Texas Board of the Society of Plastics Engineers – 2/10/2020
The SPE-STX BOD meeting was held by phone conference.
Attendees

| | | |
| --- | --- | --- |
| --- | | --- |
| Peter Lauzon, President | | Tom Walsh, Secretary |
| Steve King, Past President | | John Wagner, Member at Large |
| Richard Keeler, Treasurer | | Janell Helton |
| Iman Bahrani, President  Elect | | Clifford Lee, Member at Large |
| David Hansen, Education Chair | | |
| --- | | --- |
Openin
Peter Lauzon opened the Board meeting at 6:03 PM.
Approval of Minutes
Tom Walsh moved to accept the minutes as published. Steve King seconded the motion. The motion passed unanimously.
Councilor Report
There was no Councilor report
Treasurer Report
Richard Keeler and Janell Helton reported the following:
• Checking account balance = $110,943.
• Savings Account balance = $119,133.
Steve King reported that he will be contacting a financial advisor later this week to further explore investment opportunities.
| | | | | |
| --- | --- | --- | --- | --- |
| --- | | --- | | --- |
| Month | | Program | | Location |
| --- | | --- | | --- |
| February | | 2020 Int'l Polyolefins Conference | | Hilton Houston North |
| March | | Open | | TBD |
| April | | New Technology & Social Meeting | | TBD |
| May | | Astros | | TBD |
| June | | Regional/Americas/Global Topics | | |
| --- | | --- | | --- |
Pete Lauzon will coordinate with Dell Doyle. It was suggested that we try to schedule topics to inform and assist local industries, (i.e. regulatory issues, sustainability issues, etc.)
Membership
Tom Walsh reported that our membership is steady at around 300.
Education
David Hansen reported that Edgar Chow has been trying to contact the organizers for the Science Fair. They did not respond, so we are not going to participate this year. David suggested we could invite one of our student chapters to report during one of our monthly meetings.
New Business
Tom Walsh suggested that Board Members attending the Polyolefins Conference see if they can recruit new members for our section.
Next Meeting
The second Monday in March (3/109/2020)
Adjournment
The meeting was adjourned at 6:34 PM.
---
Membership has increased slightly 303 to 305 as of December 7
| | | | | |
| --- | --- | --- | --- | --- |
| --- | | --- | | --- |
| Professional memberships   | | 211 | | (unchanged) |
| Young Professional Memberships  | | 7 | | (-1) |
| Student Memberships | | 50 | | (+3) |
| Emeritus Memberships  | | 20 | | (unchanged)  |
| Distinguished Memberships  | | 3 | | (unchanged)  |
| New Young Professional Members | | 14 | | (unchanged)  |
| Total | | 305 | | (+2) |
| --- | | --- | | --- |
---
Plastics Information: Check It Out
Houston Public LibraryThe Houston Public Library on McKinney has resources on plastics and polymers. Check out their catalog. If you are not near the McKinney location, you can arrange to pick up your books at your local branch.
The Fondren Library at Rice University has the most complete collection of books on plastics and polymers. This is also a prime resource for patent and trademark information, as well as other US Government documents. You cannot check out books there unless you join Fondren Library [$50], but you can arrange for books to be sent to your library by inter-library loan. Use their catalog.
The next best place to browse is at the MD Anderson Library at the University of Houston central campus. South Texas Section has donated many plastics books to this library. If you plan ahead, you can get a TexShare library card from a library where you are a member, which will allow you to check out books from any U of H library. Their catalog is here.

---
Calendar of Events
| DATE | EVENT | LOCATION | TIME |
| --- | --- | --- | --- |
| February 23-26 | Polyolefins Conference | Hilton Houston North | All Day |
| April | New Technology & Social Meeting | TBD | |
| May | Astros | | |
| June | Regional/Americas/Global Topics | | |

---

Board of Directors
Section Officers
President
Peter Lauzon
Plastic Pipeline Integrity
President Elect
Iman Bahrani
Omya, Inc
Past President 
Steve King
Solvay
Vice President 
Dell Doyle
Dow Chemical
Secretary
Tom Walsh
Walsh Consulting
Treasurer
Richard Keeler
Kisuma Americas
Councilor
Robert Portnoy
Portnoy Technical Services

Committee Chairpersons
Awards Committee Chair –
Kevin Alexander
KWATech, Inc.

Education Committee Chair –
David Hansen
SBC Consulting

Housing
Renee Colyer
J. M. Huber Corporation

Membership Committee Co-Chairs

Chuck Crosby
Braskem Americas

Tom Walsh
Walsh Consulting Services

Newsletter –
Iman Bahrani
Omya, Inc.

Technical Program
Dell Doyle
Dow Chemical

Young Professional Chair
Robert Portnoy
Portnoy Technical Services
Polyolefins 2020 Chair
Fernando Cevallos Candau
W.R. Grace
Sporting Clays
Peter Lauzon
Plastic Pipeline Integrity

Board Members
David Hansen
SBC Polymers consulting
Robert Portnoy
Portnoy Technical Services
Monica Rodriguez
Kisuma Americas
John Wagner
Consultant
Preston McDaniel
Dow Chemical
Matt Zwick
Tarquin
Clifford Lee
Townsend Solution


---
Web Content/Section Coordinator
Janell Helton
Houston, TX 77084
713-503-6729
jdhelton@comcast.net


---