---
President's Message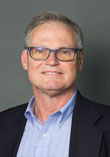 The Polyolefin Conference held February 24th – 27th was reported by many of our members and attendees to event to be a huge success. Many provided positive feedback about the content and the execution of the event to be educational and beneficial. See details of the event on our web site at www.spe-stx.org. Technical papers / presentations will be loaded soon for your reference.
Earlier this month another technical event was held at the Houston Community College in Stafford where we jointly hosted this technical meeting and facility tour with the MIT Enterprise Forum and the Greater Houston Manufacturer's Association. We had a large crowd in attendence.
The membership committee reports growth in our membership so I would like to take a moment to welcome our newest members and to thank those of you who have continued encourage membership with the SPE-STX section.
If you are looking for a rewarding opportunities to serve your SPE organization watch for more details in the next couple of months on the election of new members for the Board of Directors and the Polyolefins Conference committees.
Sincerely,
Steve King, President
---
2019 Polyolefins Conference
The annual SPE International Polyolefins Conference was well attended. Thanks to all who volunteered to make this a great success.

---
Poster Contest Winners
This year 17 students from across Texas accepted the challenge of the poster contest. Congratulations to the winners
First Place : Tonoy Chowdhury UNT
---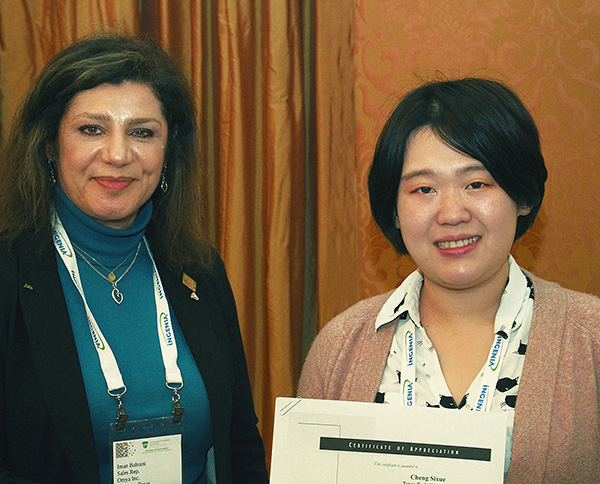 Second Place: Cheng Sixue TTU
---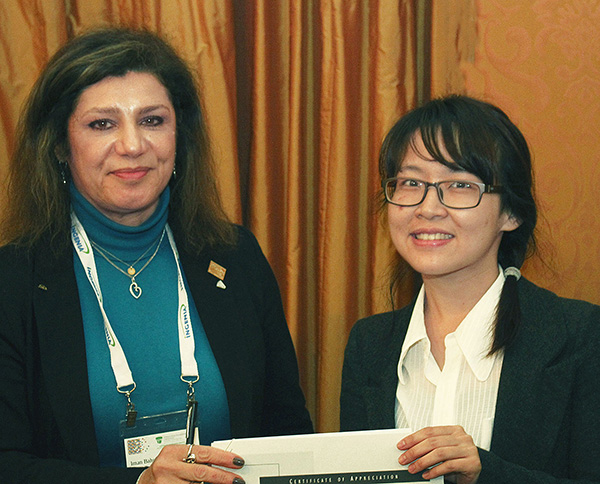 Third Place Poster Winner Ying-Hua Fu A&M
---

Four $1,000 scholarships were awarded at the student awards luncheon on Tuesday
Scholarships are just one of the recipients from the Polyolefins conference.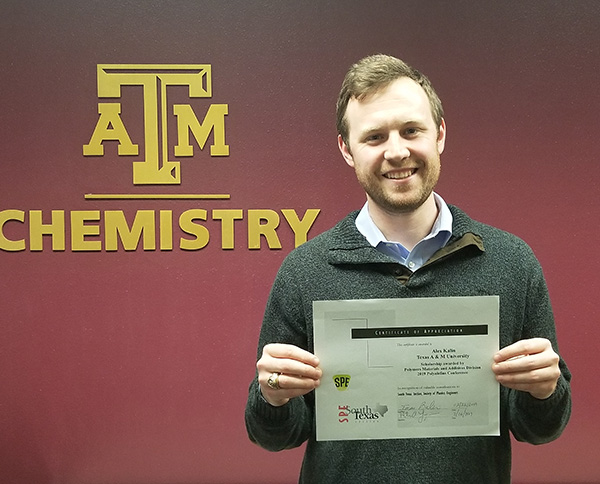 Scholarship Recipient Alex Kalin, Texas A&M
---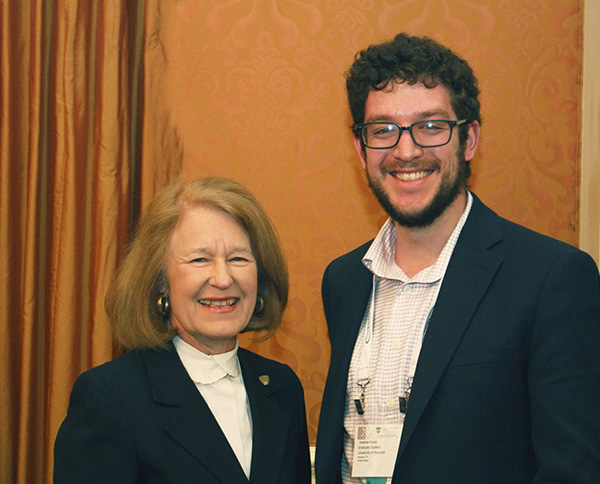 Scholarship Recipient Andrew Kocen, U of H
---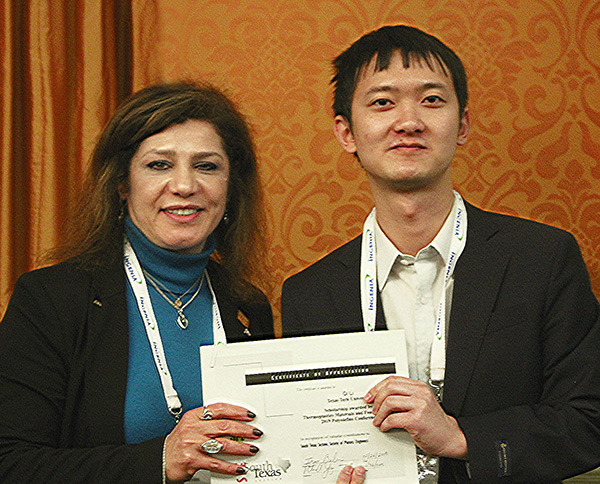 Scholarship Recipient Qi Li, Texas Tech
---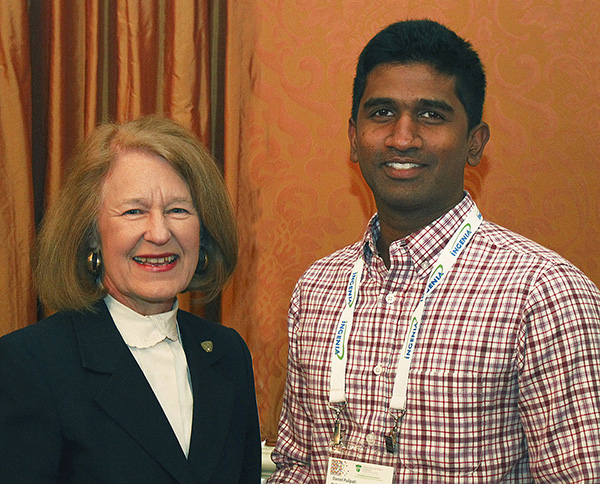 Scholarship Recipient Jialin Qiu, U of H
---

Monday Night Social Sponsored by PMC
The perfect social climate for all polyolefins-related businesses.

Jim Foerster, SW Regional Sales Manager, PMC Group, Debtosh Chakrabarti, President, PMC Group
Renee Colyer, Regional Sales Manager, JM Huber Corp.


---
This Year's Entertainment Included Some Familiar Faces and Some New Faces
Along with the favorite Mariachi Band and Jazz Trio, we have a fantastic Japanese Dance Group.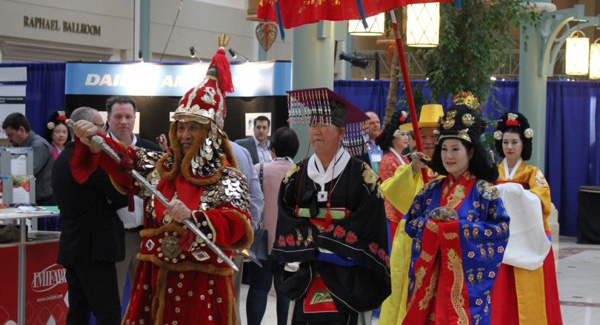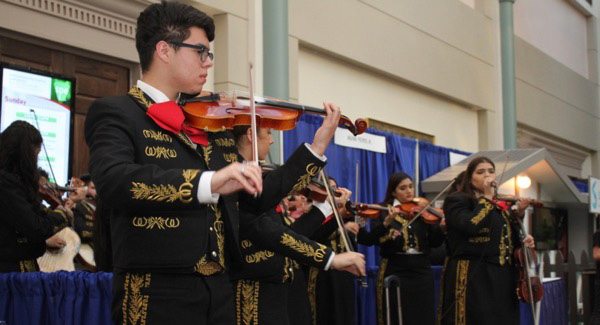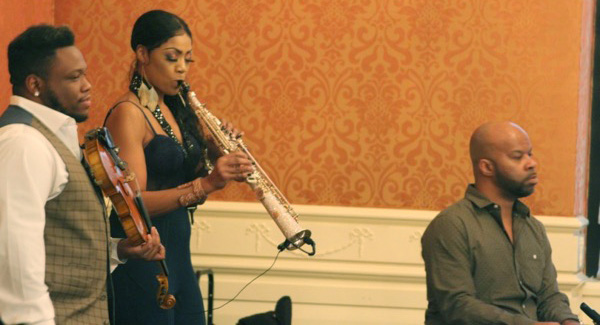 ---
Congratulations to the Baylor SPE Chapter
The Society of Plastics Engineers recognized the Baylor SPE Chapter with the First Place award for the Outstanding Student Chapter for 2018-2019.  The student leadership team led by Daniel Pulipati (president), Nate Blackman (vice president), Timothy Russell (treasurer) and Dale Jiang (secretary), has been exceptional in all they have done this past year.
The award was presented March 17 at the awards banquet during the SPE-ANTEC (Annual Technical Conference) being held in Detroit. This year is an especially momentous year for SPE as it is our 75th year as an organization.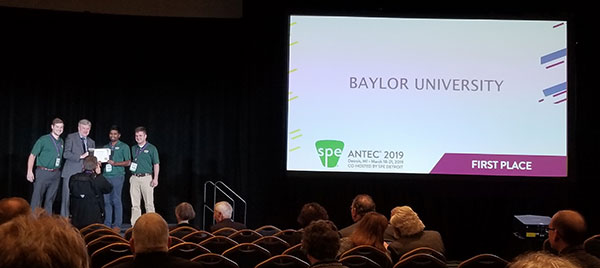 ---
A Large Attendence Enjoyed the Evening at the Houston Community College Advanced Manufacturing Center of Excellence in Stafford
Members of the MIT Enterprise Forum of Texas, the South Texas Section of the Society of Plastics Engineer, and the Greater Houston Manufacturers Association touched some interesting 3D printing manufactured by 3D Lasarus. The 3D "brain" is used in preparations to surgery.

Everyone toured the facility which has training on computerized, programmable milling machine, 3D printing, manufacturing automation with robot, air conditioning installation, electrical Installation, and welding.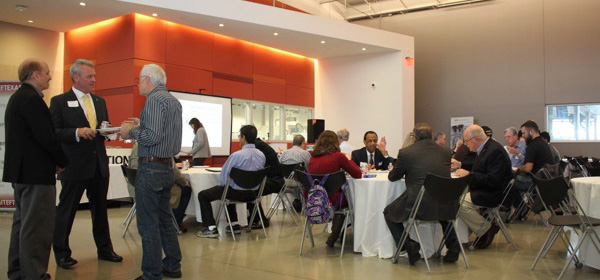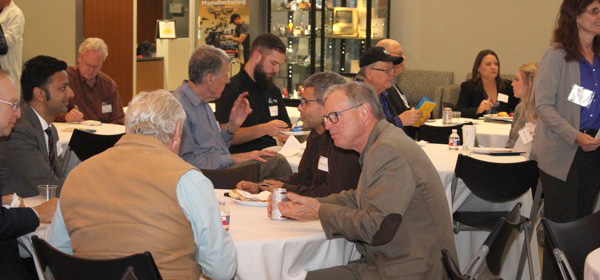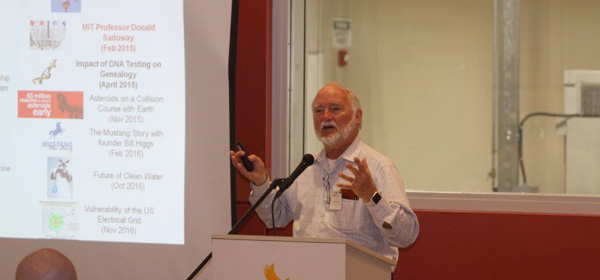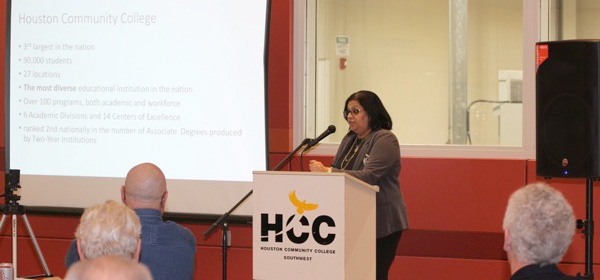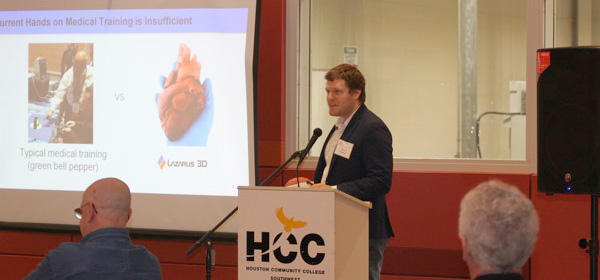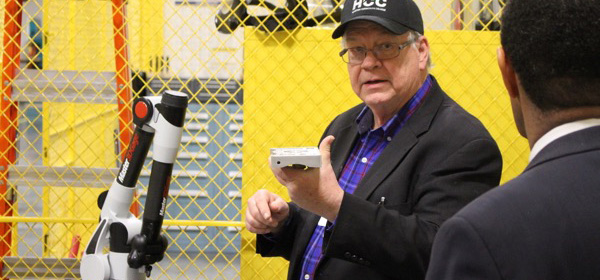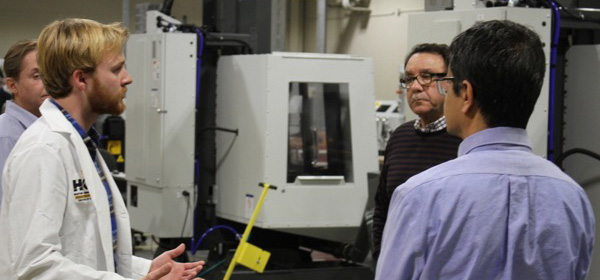 ---
3D Printing Feedstocks from Recycled Materials
Nicole E. Zander and Margaret Gillan, U.S. Army Research Laboratory, Weapons and Materials
Research Directorate, Aberdeen Proving Ground, Aberdeen, MD
Abstract
United States Army warfighters in theater are often faced with the challenge of broken, damaged, or missing parts necessary to maintain the safety and productivity required. Waste plastics can be utilized to improve the self-reliance of warfighters on forward operating bases by cutting costs and decreasing the demand for the frequent resupplying of parts by the supply chain. In addition, the use of waste materials in additive manufacturing in the private sector would reduce cost and increase sustainability, providing a high-value output for used plastics. Experimentation is conducted to turn waste plastics into filament that can be used in fused deposition modeling. The effect of extrusion temperature and number of extrusion cycles on polymer viscosity and crystallinity are explored. The effect of blends and fillers to impart additional functionality are also examined. Tensile specimens were tested and compared to die-cut and injection molded parts. Parts printed from recycled polyethylene terephthalate had the highest tensile strength of all recycled plastics evaluated (35.1 ± 8 MPa), and were comparable to parts printed from commercial polycarbonate-ABS filament. Elongation to failure of all recycled plastics was similar to their injection molded counterpart. In addition, select military parts were printed with recycled filament and compared to original parts. This research demonstrates some of the first work on the feasibility of using recycled plastic in additive manufacturing.


---
South Texas SPE 2018-2019 Board Meeting
February Meeting Minutes – 02-06-2019
Attendees: Steve King, Janell Helton, Tom Walsh, Pete Lauzon, Iman Bahrani, David Hansen, Robert Portnoy, Bill Diecks, Richard Keeler, Pete Lauzon
Opening: The meeting was opened at 6:00 pm by Steve King
Honoring our fallen members: it was agreed to honor past member with a memorial at the POC. From this initiative a discussion followed about how to honor past member with our scholarship awards. This discussion will be revisited in the next BOD. To start the process a motion by Tom was made to deposit $10k into an endowment fund to prepare for future endowments, planning accurals. It was second by Pete, it passed unanimously.
Approval of Minutes: The minutes from the previous meeting was approved, motion by David, second by Bill, all approved.
Houston Community College: A pending technical / social meeting with the HCC is scheduled for March 7th. Dell Doyle and David Hansen are working on the agenda and arrangements. It was suggested that we host this along with other complimentary organizations such as GHMA and MITEF. David Hansen agreed to reach out and organize.
Clay Shoot, a second fund raising event being researched is a clay shoot later in the fall of 2019. Pete, Tom, and Robert are leading this initiative. They are to report their findings at the next BOD Meeting.
Board Member Nomination Committee; Tom Walsh agreed to take the lead on setting up a nomination committee for board members. To report back at the next meeting.
Non-responding Schools: It was reported that we have no communication from Lamar, North Texas, or Texas A&M Harlegen. David Hansen agreed to reach out to the schools and request a response as the status.
Old Business: There were no other old business topics brought up.
New Business: Expanding the South Texas Section to regions like San Antonio and Waco was discussed. A side bar to this discussion was an Uncle Sam placard asking people to join would be displayed at the POC, Dell Doyle will manage this. The discussion to reach out to International for a membership list for the region was discussed but no one offered to pick up the task. Tabled until the next meeting.

Adjournment: The meeting was adjourned at 7:00 pm.
---
Plastics Information: Check It Out

Houston Public LibraryThe Houston Public Library on McKinney has resources on plastics and polymers. Check out their catalog. If you are not near the McKinney location, you can arrange to pick up your books at your local branch.
The Fondren Library at Rice University has the most complete collection of books on plastics and polymers. This is also a prime resource for patent and trademark information, as well as other US Government documents. You cannot check out books there unless you join Fondren Library [$50], but you can arrange for books to be sent to your library by inter-library loan. Use their catalog.
The next best place to browse is at the MD Anderson Library at the University of Houston central campus. South Texas Section has donated many plastics books to this library. If you plan ahead, you can get a TexShare library card from a library where you are a member, which will allow you to check out books from any U of H library. Their catalog is here.
---
Calendar of Events
| DATE | EVENT | LOCATION | TIME |
| --- | --- | --- | --- |
| April 18 | Social | St. Arnold Brewery | 6-8 p.m. |
| May 14 | Social | St. Arnold Brewery | 6-8 p.m. |
---

Board of Directors
Section Officers
President
Steve King
Solvay

President Elect
Dell Doyle
Dow Chemical

Past President
Kevin Alexander
KWA-Tech, Inc

Vice President
Iman Bahrani
Omya, Inc.

Secretary

Treasurer
Peter Lauzon

Committee Chairpersons
Awards Committee Chair –
Kevin Alexander
KWA-Tech, Inc.

Golf Outing
Ryan Reese
Dover Chemical

Education Committee Chair –
David Hansen
SBC Consulting

Housing
Ryan Reese
Dover Chemical

Membership Committee Co-Chairs
Chuck Crosby
Braskem Americas

Tom Walsh
Walsh Consulting Services

Newsletter –
Iman Bahrani
Omya, Inc.

Technical Program
Dell Doyle
Dow Chemical

Young Professional Chair
Polyolefins 2017 Chair –
Robert C. Portnoy
Portnoy Technical Services LLC

Board Members
Steve King
Solvay

Kevin Alexander
KWA-Tech, Inc.

Iman Bahrani
Omya, Inc.

Bill Diecks Retired

David Hansen
SBC Consulting

David Grice
C&K Plastics

Dell Doyle
Dow Chemical

Tom Walsh
Walsh Consulting Services, Inc.

Peter Lauzon
Peal Processing

---
Web Content/Section Coordinator
Janell Helton
Houston, TX 77084
713-503-6729
jdhelton@comcast.net

---