---
President's Message
Dear SPE-STX Members,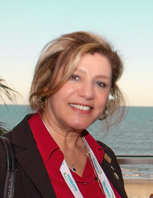 Our 2023 International Polyolefin Conference was very successful. Held at the Galveston Island Convention Center at the San Luis Resort, Spa & Conference Center, Galveston, TX, there were about 900 attendees (in-person and virtually), 55 exhibitors, 155 speakers, and 14 sponsors. Many attendees provided positive feedback about the content and the execution of the event and found it educational and beneficial. See details of the event on our website.
Also, you may now register for the virtual post-conference. Upon registering, you will have access to all the papers (downloadable), videos, and attendees through messaging via the mobile or web app. Access will be available until June 13, 2023.
On February 9, 2023, we had a successful social gathering at Texas Injection Molding, including a tour of Texas Injection Molding and a catered dinner.
I would like to remind you the Member Earned Scholarship application time is open; you can find more information on our website.
I would like to take a moment to welcome all our new members and to thank those of you who have continued your membership of the SPE-STX section. If you are looking for a rewarding opportunity to serve your SPE organization, watch for more details in the next couple of months on the election of new members for the Board of Directors and the Polyolefins Conference committees. STX will have new officers starting July 1, 2023.
Again, thanks to so many of you for your tireless contributions, making the Society of Plastic Engineers, South Texas Section, a strong successful organization that supports many universities in Texas. Our success is possible because of our members.
Sincerely,
Iman Bahrani, President

---
---
Post-Conference Registration
If you were unable to attend the IPOC in March the content is still available and on demand. Post-conference registration is open.
Virtual Member: $165.00
Non-Member: $210.00
Student Virtual: $10.00
---
Conference Success Through Total Support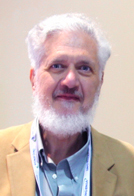 The conference theme this year was "GLOBAL POLYOLEFINS – Emerging Challenges for Sustainable Growth". This year, for the first time, the program included exclusive presentations on Wednesday morning and early afternoon.

The conference was organized by the South Texas Section of the Society of Plastics Engineers (SPE), and our partners: the Polymer Modifiers and Additives Division, the Thermoplastic Materials and Foams Division, the Flexible Packaging Division, the Engineering Properties and Structure Division and our newest partner, the Building & Infrastructure Division.

This year we expanded the exhibition duration to an additional day to Wednesday which allowed attendees and exhibitors the opportunity for additional networking. We are thankful to all who participated and made the exhibition a highlight of the conference.

Many companies chose to become sponsors of the conference. Those fourteen companies helped us to offer the most comprehensive conference dedicated specifically to polyolefins. We appreciate the willingness of our sponsors to contribute and make the conference a success.

Every year, the main share of the proceeds of the South Texas Section is ear-marked for education; the co-sponsoring partner Divisions share the same vision. We provide scholarships and direct support to SPE student chapters at eight Texas universities. Registration fees were waived for students and professors who have an SPE affiliation and who were attending the conference. Like every year, we sponsored a poster session, where students can showcase their work. This year we had 19 posters and presented the winners their awards at our Wednesday luncheon.

The conference was put together by a great team of highly motivated professionals who volunteered their time and significant effort to make this year's meeting a great success. A heartfelt thanks to all those folks, without whom we could not have done it!
Plenary: Clifford Lee and Luyi Sun

Technical Program: Donna Davis and Preston McDaniel

Exhibitors: Kevin Alexander

Sponsors: Richard Keeler

Registration: Janell Helton

Hotel & A/V: Renee Colyer

Publicity: David Hansen

Student Posters: David Hansen

SPE South Texas: Iman Bahrani

PMAD: Hayder Zahalka

Flex Pack: Bob McGee

TPM&F: Wen Li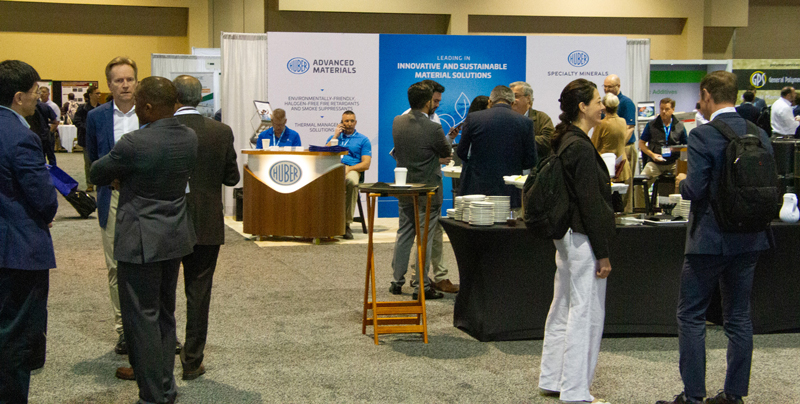 ---

2024 International Polyolefins Conference Returns to Galveston
We are already planning for our 3rd year at the Galveston Island Convention Center which will be held February 18 through 21.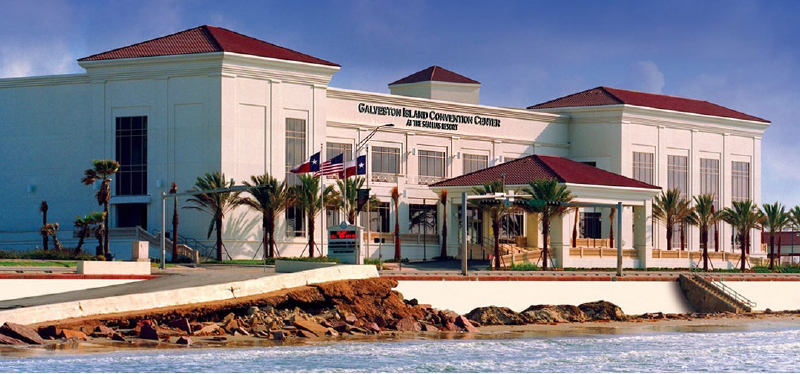 ---
Education Support Through the Conference
In addition to what the STX chapter does, the SPE International Polyolefins Conference also supports SPE student chapters at the same 8 Texas Schools. We invite up to 5 students from each school to attend the Polyolefins Conference at no charge (free registration and rooms). Chosen by the faculty advisor, one student from each school who attends the conference received a $1,000 scholarship. Up to three of the students from any University can compete in Poster Presentations describing their research projects. The conference awards $500 for first place, $300 for second place, $200 for third place and $100 for two honorable mentions.
This year we had 30 students attending the conference and 20 competing in the poster competition.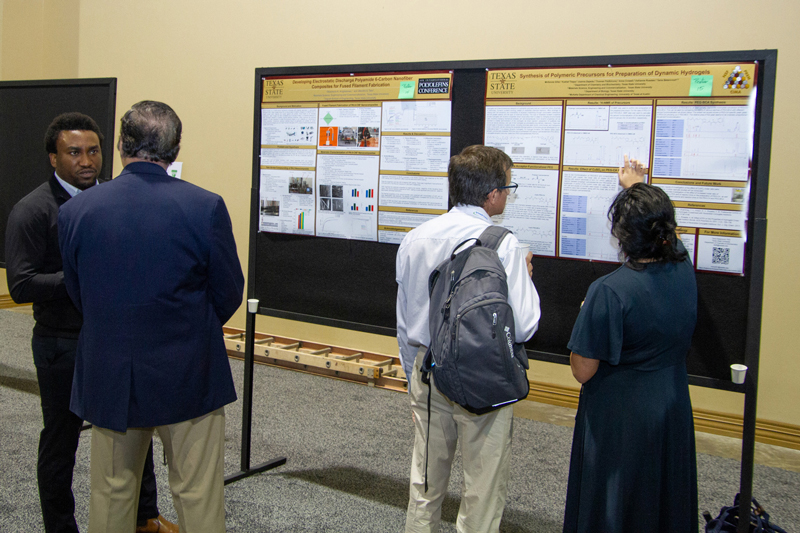 The Polyolefin Conference also had a dinner for all students at the conference along with faculty advisors. Time was spent at the dinner with everyone introducing themselves, one at a time. At the end of the dinner four senior SPE members talked about careers in the Plastics industry based on their experiences and about advice for students just starting their careers.
Networking was of course a reoccurring theme.

---
2023 Polyolefins Conference Scholarship Winners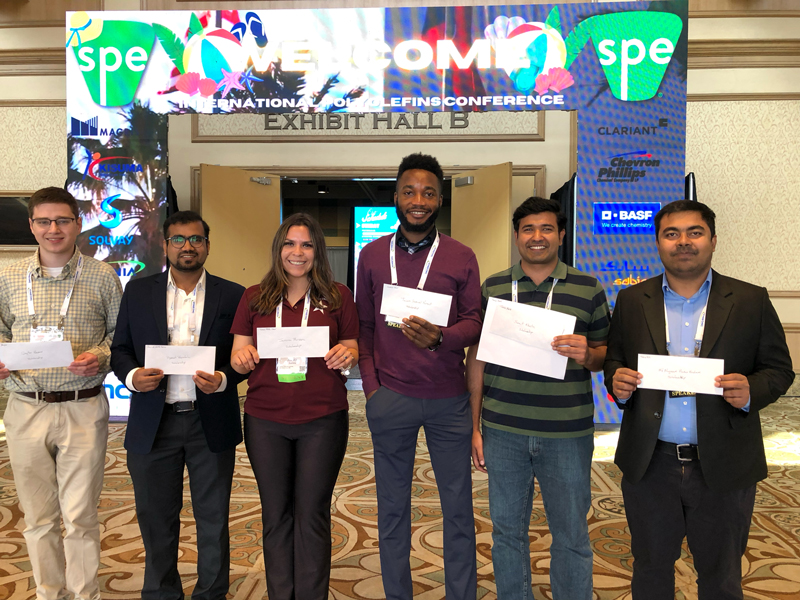 MD Nayeem Hasan Kashem – Texas Tech University

Diego Soetrisno – University of Houston

Taiwo Samuel Yursuf – Lamar University

Clayton Hearn – Baylor University

Jessica Barrera – Texas State University

Vignesh Pagadalu – University of North Texas

Sumit Khatri– Texas A&M University
2023 Polyolefins Conference Poster Winners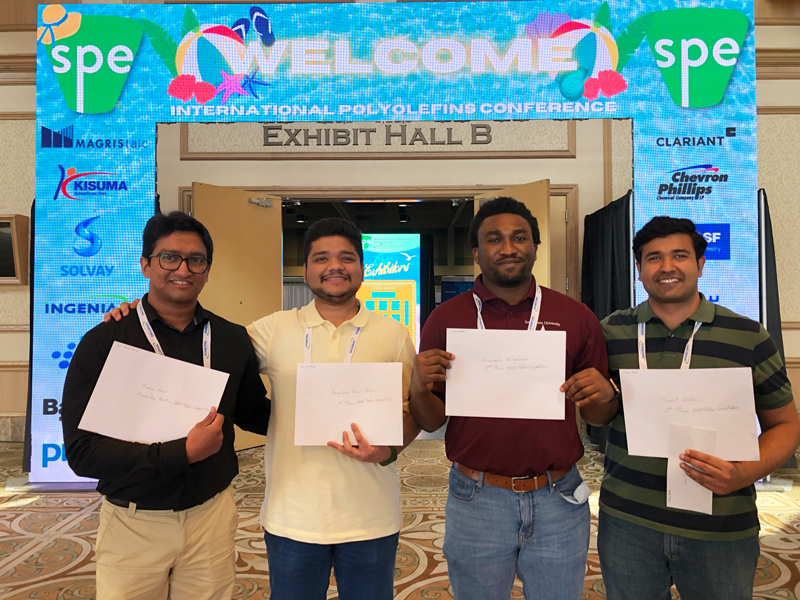 1st Place: Arsalaan Nisar Pathan – University of Akron

2nd Place: Sumit Khatri – Texas A&M University

3rd Place: Oluwasola Arigbabowo – Texas State University

Honorable Mention: Mahan Ghosh – University of North Texas

Honorable Mention: Josiah Hanson – University of Houston

If anyone is interested in joining the Education Committee for STX or the Polyolefins Conference, please contact David Hansen .

 

---
Education Activities (STX and the Polyolefin Conference)
The SPE South Texas Section (STX) spends roughly $50,000 or more on supporting education. This is more than 50% of the STX budget.
We do this by:
Providing University scholarships to children and grandchildren of active STX members (up to $2,500/child)
8 Universities in Texas with SPE Student chapters receive $3,000/school for scholarships and $1,000/school to support the SPE student chapters
We plan to reengage with supporting the Houston Science Fair now that COVID is over
We have given out ten $25,000 to $50,000 endowments to Texas Schools in pass 50 years. Our last endowment was to Baylor University in 2018
Depending upon the availability of money we have given out Equipment grants to the 8 Texas Universities in the past
Application period for Member Earned Scholarships for the academic year of 2023-2024 is now open.
SPE South Texas section members who have children or grand-children that are attending college in the coming academic year can apply for a scholarship. We will give up to 2 scholarships per family per school year. Application deadline is May 15th, 2023.
Then submit it to Janell Helton.   


---
BIO-TECH TRANSFORMING PLASTICS FEEDSTOCKS AND SUSTAINABILITY:
Can we reduce petroleum use while consuming environmental CO2 to make familiar petrochemicals and plastics?
One of the most popular presentations at the 2023 SPE International Polyolefins Conference was from LanzaTech. Zara Summers, VP Science, described the process including CO2 capture and preparation, bio-catalyzed gas fermentation and reaction to produce designer hydrocarbons, with current and envisioned examples.
Abstract
The climate crisis is the most urgent challenge to mankind which can only be resolved via rapid action to drastically reduce waste carbon emissions. Carbon recycling technologies can transform above-ground carbon sources into sustainable fuel and chemical products. These technologies offer an industrial approach to both enable fuel and chemical manufacturing at its current scale, and achieve sustainability targets. Gas fermentation using carbon-fixing microorganisms is a fully commercial carbon recycling process technology that transforms waste carbon resources into sustainable fuels, chemicals and polymers at a scale that can be truly impactful in mitigating the climate crisis. LanzaTech is a pioneer and world leader in gas fermentation, having successfully scaled up the process from the laboratory bench to full commercial scale, with several commercial plants in operation and many additional facilities in construction.
Compared to other gas-to-liquid processes, gas fermentation offers unique feedstock and product flexibility. The process can handle a diverse range of high volume, low-cost feedstocks. These include industrial emissions (e.g., steel mills, processing plants or refineries) or syngas generated from any resource (e.g., unsorted and non-recyclable municipal solid waste, agricultural waste, or organic industrial waste), as well as CO2 with green hydrogen. In the first instance there LanzaTech process is focused on the direct production of ethanol from these sustainable feedstocks. This ethanol can either be used directly as a blend stock in gasoline or dehydrated to ethylene for the manufacture of everything from sustainable aviation fuel to polyester resins, and surfactants.
Additionally, LanzaTech has developed a comprehensive synthetic biology capability for gas fermenting bacteria. This capability has enabled the company to demonstrate and, in some cases, scale the direct production of over 100 alternative chemical outputs from its gas fermentation process. One such molecule is ethylene, the most widely used petrochemical in the world with a $125Bn market. LanzaTech is pioneering the direct production of sustainable ethylene having already demonstrated continuous ethylene synthesis from CO2 in its laboratory.
References
"Carbon-negative production of acetone and isopropanol by gas fermentation at industrial pilot scale" (includes a long list of biotech references)
On launches eco-friendly running shoe made using waste carbon emissions
Press release re Nasdaq listing
Presentation
(Read Dr. Summers' full presentation in the conference proceedings.)
Dr. Summers described the process as beginning with CO2 capture from Industrial off-gas, electrolysis and direct air capture, even agricultural and municipal waste (followed with gasification). The CO2 utilization is enhanced with the addition of hydrogen, including green H2. The process has been developed over the past eighteen years, culminating in commercial scale production in 2018.
Amongst the positive surprises has been extended run length between turn-around for catalyst regeneration. While resilience of bio catalysts has been a concern, the bio-catalyst has proven it's ability to recover from events like "oxygen flooding".
Gas fermentation and biological synthesis are cornerstone technologies for LanzaTech. Predictive metabolic and process models combined with high-throughput screening and prototyping have enabled the development of a robust development platform.
Ethylene, a primary monomer for polyolefins, especially PE, can be produced via dehydration of ethanol. On-purpose technologies for ethylene and propylene from ethanol and isopropanol have been known for years, but the LanzaTech differentiation is the production of alcohol via continuous fermentation from captured CO2 and biomass.
This presentation was part of a full day of programming based on business issues and challenges facing the industry. Additional topics (presentations available in the conference proceedings) included repurposing plastic waste into virgin-like materials via chemical recycling. Yet another very popular presentation was from xEnergy addressing Small Modular Reactors for simpler and faster deployment to "energize" industrial complexes like petrochemical sites.


---
Member Benefits - What's in the "Box"?
SPE benefits and programs are designed by plastics professionals for plastics professionals.
You get only the "good stuff," from experts working in the field every day. No "fluff," just substance!
access to relevant content
connection to a global community
live technical events
career support
and so much more…
When you become a member of SPE, choose to join the South Texas Section at no additional charge. Doing so will allow you to keep abreast of all International Polyolefins Conference happenings as well section news and you will also receive our newsletter.
Check out all we have to offer and JOIN US today!
Do you know of someone that would benefit from joining the Society of Plastics Engineers?
Feel free to forward this newsletter to them and invite them to join today. Joining is easy, simply scan the QR code and follow the directions.
Also, don't let you membership expire – you don't want to miss out on the advantages membership offers!

---
Plastics Information: Check It Out

Houston Public LibraryThe Houston Public Library on McKinney has resources on plastics and polymers. Check out their catalog. If you are not near the McKinney location, you can arrange to pick up your books at your local branch.
The Fondren Library at Rice University has the most complete collection of books on plastics and polymers. This is also a prime resource for patent and trademark information, as well as other US Government documents. You cannot check out books there unless you join Fondren Library [$50], but you can arrange for books to be sent to your library by inter-library loan. Use their catalog.
The next best place to browse is at the MD Anderson Library at the University of Houston central campus. South Texas Section has donated many plastics books to this library. If you plan ahead, you can get a TexShare library card from a library where you are a member, which will allow you to check out books from any U of H library. Their catalog is here.


---
Spotlight Member: Dell Doyle
Dell Doyle (Dow Inc.) is a Senior Technical Service & Development (TS&D) Scientist at Dow, where his research focuses on oil and gas composite pipe, hydrocarbon permeation/absorption, chlorine resistant and high temperature PE piping systems.
He is a leader in the pipe industry, serving on the board of directors for both PE Alliance and the South Texas section of the Society of Plastics Engineers. He also won the PPI member of the year award in 2019.
Dell is past chairman of PPI's Energy Piping System Division, and serves on several standards committees at ASTM, American Petroleum Institute, CSA, NSF and PPI. Dell holds a PHD in organic chemistry from Rice University and a BS in Chemistry from Midwestern State University. Click here to email Dell.

---

Officers
Section Officers
President
Iman Bahrani
Albemarle Corporation
President Elect
Past President 
Peter Lauzon
Plastic Pipeline Integrity
Vice President 
Preston McDaniel
Dow
Secretary
Tom Walsh
Walsh Consulting
Treasurer
Richard Keeler
TIB Chemicals Corporation
Councilor
Steve Pontiff
Ecolab
Committee Chairpersons
Awards Committee Chair
Kevin Alexander
KWATech, LLC
Golf Outing
Education Committee Chair
David Hansen
SBC Consulting
Housing
Renee Colyer
J. M. Huber Corporation
Membership Committee
Steve King
Flowserve Corporation
Technical Program
Dell Doyle
Dow Chemical
Young Professional Chair
Polyolefins 2023 Chair
Vassilios Galiatsatos
Lyondellbasell (Ret.)
Board Members
David Hansen
SBC Polymers Consulting
John Wagner
Ensinger Special Polymers
Donna Davis
Donna Davis Consulting

Jason Ball
Reterra

Davide Danese
General Polymer Services
Fernando Cevallos-Candau
Consultant
Carl Baker
Shell
Kumar Sanketh
Dow
Steve King
Flowserve Corporation
Dell Doyle
Dow

---
Web Content/Section Coordinator
Janell Helton
Houston, TX 77084
713-503-6729
jdhelton@comcast.net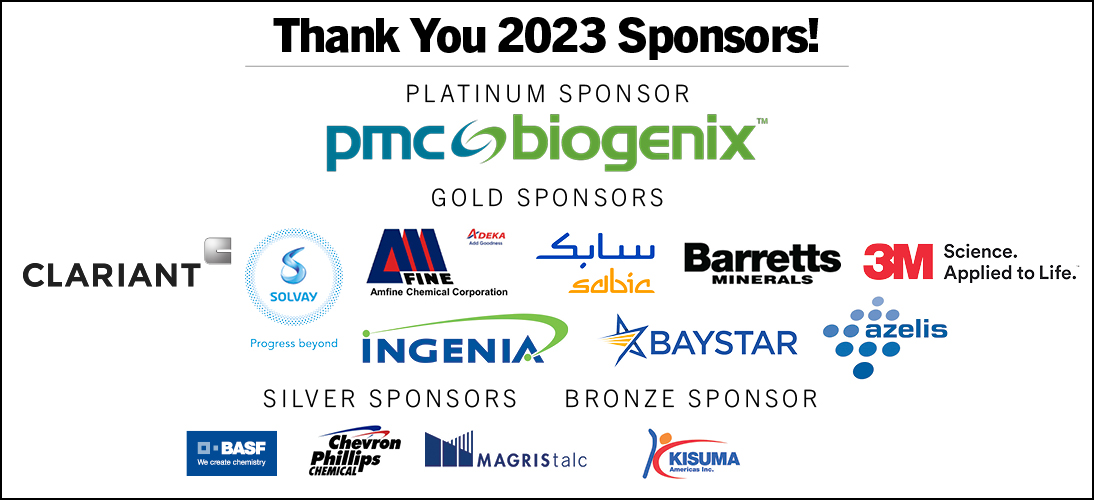 ---