---
President's Message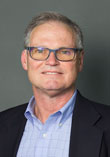 Greetings,
Many of our members enjoyed some much needed time off for the summer. 2018/2019 will be a big year for change not only in the events we sponsor but our membership as well. This past year we have had many of our long time service members retire leaving many positions open. If you have any interest in supporting the Society of Plastics Engineers please email me (steve.king@solvay.com) so I can assist you in finding the best most rewarding position.
One big change has been our website. For details see us at www.spe-stx.org. We are constantly looking for ways to improve the site and to provide you with the tools you need to be successful. If you have any suggestions we are open to your feedback.
In August we began preparing for many new and exciting events. This list can be found on the website. Our first event takes place as a social event where we invite our members to join us the evening of September 18th at the ball park for an exciting Astros Baseball game. Check your email for details.
We continue to plan our Polyolefins Conference for 2019 and will need many volunteers to ensure another successful event. Through this event we were able to establish a new Baylor University Endowment this year, thanks to the support from many of our members. We look forward to having another successful year for the Society of Plastic Engineers – South Texas Section. For additional information please visit www.spe-stx.org.
Sincerely,
Steve King, President
---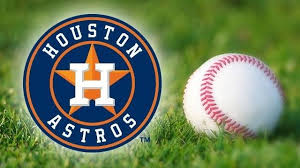 SOLD OUT–
September 18 at the Astros vs Mariners Ball Game for Our 2018-19 South Texas Section Fall Kick-Off has Sold Out!
Only 50 tickets were available for this great meet, greet, and mingle event at MinuteMaid Park.
When: September 18, 2018, 7:10
Where: Minute Maid Park
Cost: Member $25, Non-Member $35
Evening Details: Your ticket price includes: seating in lower level section 107 plus $15 food and or beverage credit.
It is also $1 hot-dog night at the park so you won't leave hungry!
All 50 tickets have been purchased. However, if you are still interested in attending our seats are in Section 107. Purchase a ticket and meet us there!
---
We will be at St. Arnold's next month! Watch your email as details will be coming soon to your inbox!

---
---
Call For Papers
The SPE South Texas Section, the SPE Polymer Modifiers and Additives Division, the Thermoplastic Materials and Foams Division, and the Flexible Packaging Division are organizing technical sessions for the 2019 SPE International Conference (Feb 24-27) in the following areas:
Current Trends in Markets, Technology, and Investments
Innovation in Polyolefin Catalysts and Process
Advances in Polyolefin Stabilization
Modifiers for Polyolefins
Polymer Testing and Characterization
Flexible Packaging
Polyolefins in Automotive
Advances in Polyolefin Processing
Polyolefin Drainage Applications
Sustainability
Submission Due Date
Abstracts: October 19, 2018
Papers: January 18, 2019
Presentations: January 18, 2019
Student Posters: January 18, 2019
To submit a paper, contact Fernando Cevallos-Candau
To become a sponsor, contact Richard Keeler or Ryan Reese
To procure a exhibition booth, contact Kevin Alexander
For more information go to spe-stx.org/international-polyolefins-conference The 2018 SPE International Polyolefins Conference was very successful with over 720 people attending, 60 exhibitor booths, a student poster competition, two networking receptions, and tremendous commercial activity.

---
Baylor University Award Second Place at ANTEC Student Chapter of the Year
Jeff Applegate received the following email from David Jack, PhD Associate Professor Department of Mechanical Engineering, Baylor University: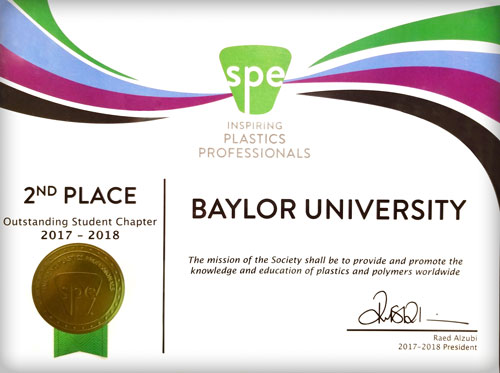 Jeff,
I first want to thank the entire South Texas Section for SPE for all they do to support the next generation of polymer engineers. The impact cannot be emphasized enough.
Two of the student chapters in the South Texas Section were finalists for Student Chapter of the Year at ANTEC. Five student chapters were invited to ANTEC for the awards ceremony; Imperial College, University of Connecticut, Penn State, and two Texas chapters Baylor University and Texas A&M. This year the first place award went to Penn State with Baylor University receiving second place. Imperial College received third place and U-Conn and Texas A&M were tied for honorable mention.
I am impressed with all of the Texas chapters, and I am especially impressed by all of the hard work put forth by the Baylor SPE members and the current Baylor SPE student president Daniel Pulipati. After Baylor received first place in 2016-2017 I was a little afraid there would be a letdown for 2017-2018, but Daniel kept the chapter moving forward. He has also instituted several new outreach programs this past spring that will be expanding in the fall that caught the attention of the SPE national leadership, but was not part of the judging for the recent chapter awards. I am confident that Baylor will again be a strong candidate next year for chapter of the year J I want to pass along several unsolicited compliments to the South Texas Section from folks I talked with at ANTEC. I am active in several divisions within SPE, and in each of the meetings I participated in the South Texas Section was held up as an example of a section/division that really supported the students and the young professionals. I cannot thank you enough for your leadership and example, and I am hopeful that will spread throughout SPE.
Best regards, and Sic'em Bears! David
David Jack, PhD Associate Professor Department of Mechanical Engineering Baylor University
---
Novel Antioxidant Solutions for Polypropylene with Enhanced Colour Performance
Dr. Warren Ebenezer (Research Manager/Polymer Applications)
Acknowledgements: Mr. M. Hensman, Mr. R. Becker, Dr. J. Hill
Summary
Addivant has developed a new stabilization system for colour control.
---
South Texas SPE 2018-2019 Board Meeting
There are no minutes avaiable from the last meeting at this time.
---
Plastics Information: Check It Out

Houston Public LibraryThe Houston Public Library on McKinney has resources on plastics and polymers. Check out their catalog. If you are not near the McKinney location, you can arrange to pick up your books at your local branch.
The Fondren Library at Rice University has the most complete collection of books on plastics and polymers. This is also a prime resource for patent and trademark information, as well as other US Government documents. You cannot check out books there unless you join Fondren Library [$50], but you can arrange for books to be sent to your library by inter-library loan. Use their catalog.
The next best place to browse is at the MD Anderson Library at the University of Houston central campus. South Texas Section has donated many plastics books to this library. If you plan ahead, you can get a TexShare library card from a library where you are a member, which will allow you to check out books from any U of H library. Their catalog is here.
---
Calendar of Events
| DATE | EVENT | LOCATION | TIME |
| --- | --- | --- | --- |
| September 18 | 2018-19 Kickoff at Astros vs Mariners | MinuteMaid Park | 7:10 p.m. |
| February 24-27 | International Polyolefins Conference | Hilton Greenspoint | 8:00 a.m. daily |
---
Board of Directors


---
Web Content/Section Coordinator
Janell Helton
Houston, TX 77084
713-503-6729
jdhelton@comcast.net

---