President's Message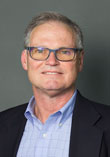 Dear SPE-STX Members,
We hope this finds everyone safe and off to a great start for 2018. The Society of Plastics Engineers – South Texas Section kicked off the year with a Saint Arnold's Brewery event on February 1st. A technical presentation was given by Joseph J. Fay, Ph.D., BASF Corporation. He traveled to Houston from Tarrytown, NY to provide the SPE-STX section with a technical presentation on Antioxidants used in plastics and beer.  The event was well attended by 50 members consisting of a very diverse crowd ranging from new to long standing members. The evening was topped off with fun, food, and great beer. It was an excellent networking opportunities. Sorry we missed many of you!
The Polyolefin Conference 2018 is upon us and will take place on February 26-28th at the Hilton North (Greenspoint) Houston, TX. We anticipate attendance to this to be a record setting event. You will not want to miss it! You should plan to pre-register for the P.O.C. on line as soon as possible to avoid delays. There will be a number of technical presentations, networking opportunities, and some really good exhibits. For more information please visit our website.
The spring STX Student Support Golf Tournament will follow shortly afterwards in April. Let us know if you would like to help with this event. As many of you know all events hosted by the SPE-STX contribute to the financial support to many young professionals and educational institutions throughout Texas. We hope we can count on your support.
I also remind you of our networking event with some well-connected members of the Society of Plastic Engineers. We sponsor a networking breakfast once a month at 7AM at the IHOP restaurant on Washington Ave, (I-10), Houston, TX. See our calendar for the future dates.
Best regards,
Steve King



---
In The News
---
Donna Davis: The Plastics Hall of Fame, Class of 2018, Inductee
Donna Davis will be one of the 10 new inductees into The Plastics Academy Hall of Fame at its awards gala at NPE2018 on May 6 of this year.
"These new inductees proudly represent the length and breadth of our great industry, with a wealth of accomplishments in polymer science, engineering, manufacturing, equipment design, and business management," says Plastics Academy President Jay Gardiner.
Donna Davis (from the Plastics Technology website) — A collaborator, innovator, researcher and educator, Davis has worked for ExxonMobil Chemical in process design and the development of polyolefin products, from early gas-phase technology through metallocene catalyzed polymers. As president of the Society of Plastics Engineers (SPE) from 2003-2004, she has been involved in many strategic activities that have impacted the industry and was the driving force behind the creation of the perennially world-class Polyolefins Conference.
Next Breakfast Bunch Meeting
When: March, 6, 2018
Where: I-Hop, 6508 Washington Ave., 77077, 7:00 AM (map)
Breakfast Bunch Meetings - The first Tuesday of each month all year.
---





Sign up now for the 2018 SPE International Conference (Feb 25-28) in Houston
This is the largest Polymer Conference dedicated to Polyolefins in the world and is a great place to meet your customers, your suppliers, and your friends as well as hearing about the latest Developments and Technology. There will be over 700 people attending the conference which will have 84 technical papers, 5 Keynote Plenary talks, a Sunday afternoon Polyolefins Tutorial, 64 exhibitor booths, two evening networking socials, and a student poster competition. Technical sessions featured at the conference will be:
Current Trends in Markets, Technology, and Investments
Innovation in Polyolefin Catalysts
New Process Developments
Advances in Polyolefin Stabilization
Modifiers for Polyolefins
Elastomers/Automotive Applications
Polymer Testing and Characterization
Modeling & Simulation of Polymer Materials & Processes
Flexible Packaging
Compounding and Extrusion
Building and Construction/Durables Applications
Foams/Light Weighting
Sustainability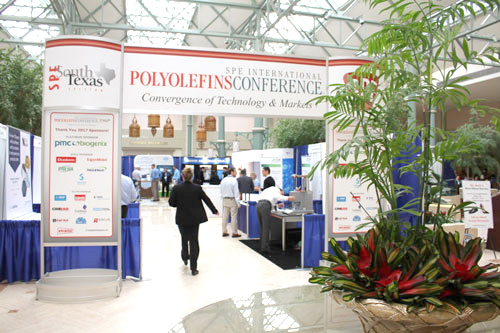 http://www.linkedin.com/groups?gid=2073302&trk=hb_side_g
Join the South Texas Section of the Society of Plastics Engineers on LinkedIn. Click on the above link and you will be directed to group page. LinkedIn serves as another communication tool for SPE-STX.
LinkedIn is a free web site for professional networking with over 300 million members in over 200 countries and territories.
LinkedIn enables discussions and networking between SPE-STX members and those related to the plastics industry. LinkedIn compliments the current SPE-STX web and membership to LinkedIn is free.
News Highlight
LinkedIn SPE-STX group currently has over 375 members as of 2014. To date, the tool has been used primarily to promote and discuss SPE-STX meetings.
Members are also notified of meetings from board members plus email blasts sent by SPE International.
As always, both the monthly newsletter and SPE-STX web site are the leading sources of information on SPE-STX activities.






Don't miss our annual South Texas SPE Golf Outing
This year our annual golf outing will be on Monday, April 16, at the Willow Creek Golf Club in Spring.
Schedule
10:30 Registration
11:00 Lunch
12:00 Shotgun Start
Cost:

Foursome: $600 - Includes golf game, golf cart, range balls, deli Lunch, beverage for four peopleIndividual Golfer: $150 - Includes golf game, golf cart, range balls, deli Lunch, beverage carts and stations during play, open bar, buffet dinner, and door prizes.
$25 - Lunch or Dinner Only.
For more information contact Ryan Reese.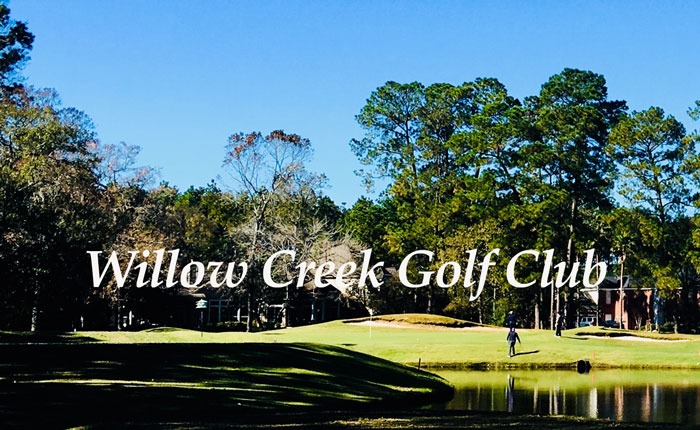 Plastics Information: Check It Out


The Houston Public Library on McKinney has resources on plastics and polymers. Check out their catalog at http://catalog.houstonlibrary.org. If you are not near the McKinney location, you can arrange to pick up your books at your local branch.
The Fondren Library at Rice University has the most complete collection of books on plastics and polymers. This is also a prime resource for patent and trademark information, as well as other US Government documents. You cannot check out books there unless you join Fondren Library [$50], but you can arrange for books to be sent to your library by inter-library loan. Use their catalog at http://library.rice.edu/.
The next best place to browse is at the MD Anderson Library at the University of Houston central campus. South Texas Section has donated many plastics books to this library. If you plan ahead, you can get a TexShare library card from a library where you are a member, which will allow you to check out books from any U of H library. Their catalog is at http://www.library.uh.edu/.




New faces joined veteran attendees at the annual St Arnold Brewery social
A big thanks to those who put the St. Arnold annual event together and making it such a great success. Thank you, Joseph Fay from BASF Corporation, for providing the technical presentation.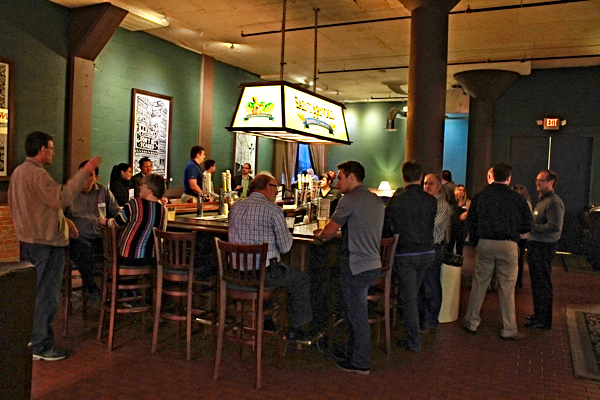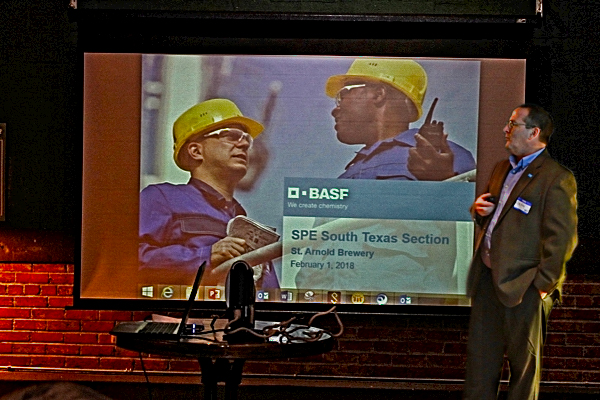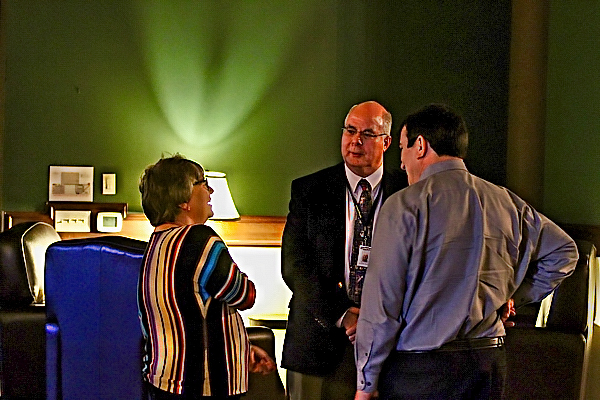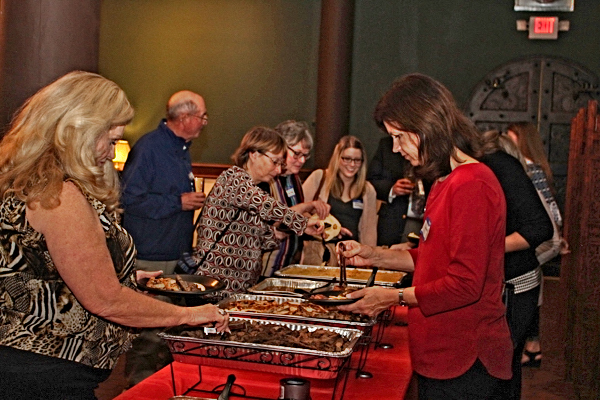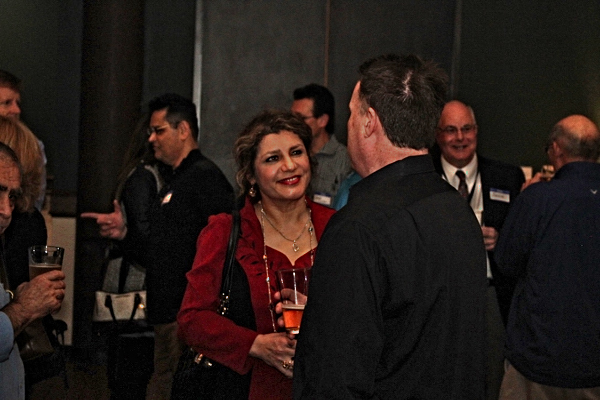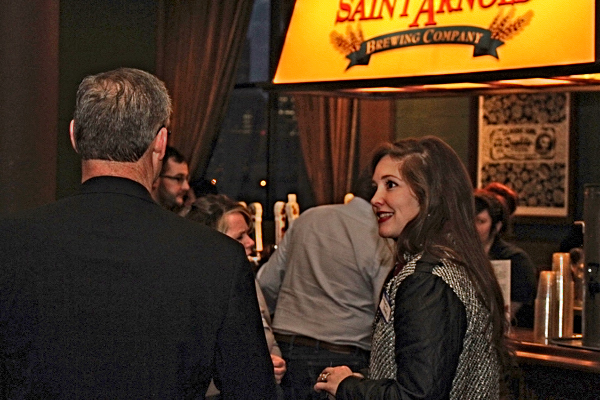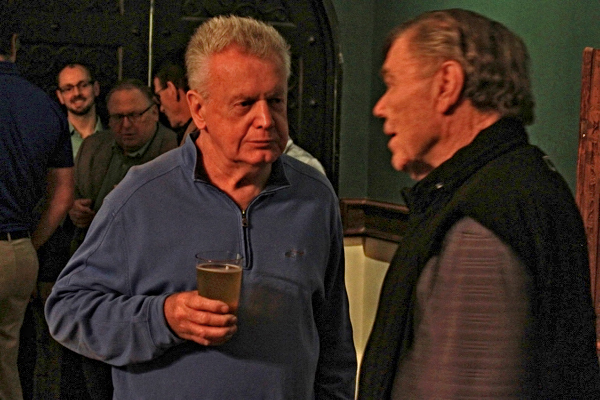 Effect of phenolic, phosphite, lactone, and their mixtures of antioxidants on Ziegler–Natta catalyst performance during propylene polymerization
A. Ranji, H. Arabi, Y. Jahani
First published: 22 July 2014Full publication history
DOI: 10.1002/vnl.21394 View/save citation
Cited by (CrossRef): 1 article Check for updates
Abstract
This study investigated the use of antioxidants and mixtures of these antioxidants during slurry propylene polymerization using the Ziegler–Natta catalyst. Antioxidant masking using triethylaluminium is the key to reducing the destructive effect of antioxidants containing OH phenolic groups on Ziegler–Natta catalyst performance. According to the synergistic properties, antioxidant mixtures with different ratios were evaluated for their masking conditions and amounts of antioxidant added. Polymer characteristics such as catalyst activity, isotacticity, oxidative induction time, and particle-size distribution of the products in the presence of different amounts of antioxidants were evaluated. The results showed that phosphite and lactone antioxidants have more effect on catalyst performance during polymerization than phenolic antioxidants. J. VINYL ADDIT. TECHNOL., 21:299–304, 2015. © 2014 Society of Plastics Engineers




South Texas SPE 2017-2018 Board Meeting
Meeting Minutes
January 26, 2018
Attendees: Steve King, Dell Doyle, David Hansen, Bill Diecks, Ed Bourbonais, Janell Helton, Iman Bahrani, Chuck Crosby, Scott Owens, and Janell Helton
No minutes from December meeting to be approved due to holiday schedules. No business was addressed.
Discussed the attendance and commitment from members. Agreed to work with the membership committee to develop a membership drive.
P.O.C. – Chuck provided an update on the P.O.C. reporting 63 registered exhibitors, 14 sponsors, and a sold out hotel. Arrangements have been made with the Marriott a few blocks away to support the overflow registration.
It was reported that Bill Talbot has officially retired, fully retired.
Membership committee – discussed ways to increase membership and activity by existing members. Agreed to poll the B.O.D. for suggestions and recommendations for a value proposition to be used in recruitment promotions.
Next meeting was scheduled for February 5th at the Solvay office at 3737 Buffalo Speedway, Houston.
Minutes were approved.



Program Calendar
| Date | Event Title | Event Specifics | Topic | Location | Time |
| --- | --- | --- | --- | --- | --- |
| February 26-28 | International Polyolefins Conference | 2018: Abundant Supply = Opportunities and Challenges | Polyolefins | Hilton Houston North, Houston, Texas | All Day |
| April 16 | Annual Golf Outing | Social | Fundraiser | Willow Creek Golf Club | Registration: 10:30am |