President's Message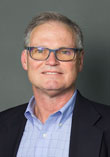 Dear SPE-STX Members,
Many new and exciting changes are taking place for The Society of Plastics Engineers – South Texas Section. We have started off with a new board of directors. Technical and social activities for the coming months have been set up. Continuously planning for many of our scholarship fund raising events, such as the Polyolefin Conference, are underway.
One big change this year is the redesign of our website. Hopefully you find it user friendly and full of helpful information. We would like to hear from you on how the new website is working and any suggestions for improvement.
Please take time to review the upcoming events.
We also wanted to let you know there are plenty of opportunities for many volunteers and would like to invite you to support a great organization by getting involved. The SPE-STX section is a great way to network, learn, and support your fellow colleagues. We hope to see you soon at one of our many events.
Best regards,
Steve King



---
In The News
---

Vinyltec 2017
When: October 11-12, 2017
The Vinyl Plastics Division and the South Texas Section are co-sponsoring Vinlytec 2017-New and Novel Materials and Processes to Solve Problems
Additional information Click here to register
Where: Marriott Plaza San Antonio
555 S. Alamo Street San Antonio, TX 78205 – (map)
Next Breakfast Bunch Meeting
When: September 5, 2017
Where: I-Hop, 6508 Washington Ave., 77077, 7:00 AM (map)
Breakfast Bunch Meetings - The first Tuesday of each month all year.
---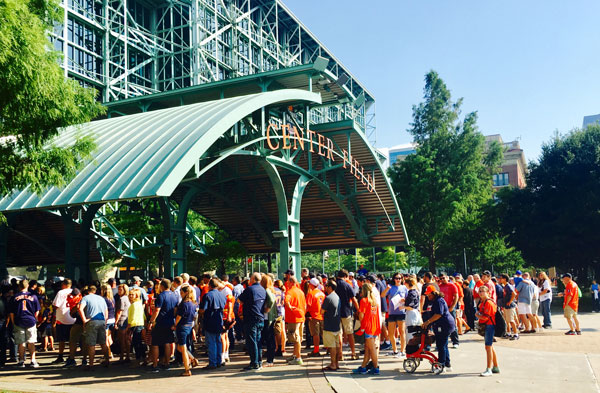 Astros vs White Sox Fall Kickoff Event will be Wednesday, September 20
Please join the Society of Plastics Engineers South Texas Section for our Fall Kickoff event. Bring you friends and family to the fall kickoff event on September 20 to see the Astros vs the White Sox ballgame at Minute Maid Park.
Game time is 7:10 p.m. Ticket includes one club level seat and a $15 voucher for stadium food. And as a bonus--It's Dollar Hot Dog Night at the park!
Cost
$25 for members
$35 for non-member
Please register by September 10

Click here to register for the Fall kickoff event.
(Ticket delivery instructions will be sent out via email the week of the September 13.)





http://www.linkedin.com/groups?gid=2073302&trk=hb_side_g
Join the South Texas Section of the Society of Plastics Engineers on LinkedIn. Click on the above link and you will be directed to group page. LinkedIn serves as another communication tool for SPE-STX.
LinkedIn is a free web site for professional networking with over 300 million members in over 200 countries and territories.
LinkedIn enables discussions and networking between SPE-STX members and those related to the plastics industry. LinkedIn compliments the current SPE-STX web and membership to LinkedIn is free.
News Highlight
LinkedIn SPE-STX group currently has over 375 members as of 2014. To date, the tool has been used primarily to promote and discuss SPE-STX meetings.
Members are also notified of meetings from board members plus email blasts sent by SPE International.
As always, both the monthly newsletter and SPE-STX web site are the leading sources of information on SPE-STX activities.






Seasonal Closing Meeting was held at Cafe Express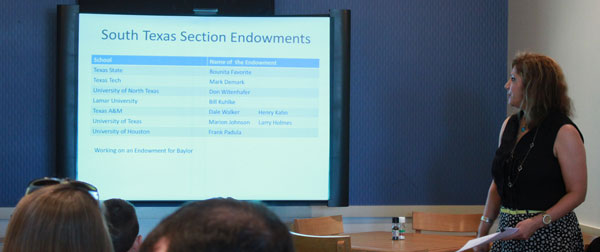 The program featured updates about the Educational Programs which was presented by our new Vice President, Iman Bahrani.
Unfortunately all of the students that were involved in these programs were unable to attend. However our guest speaker, Mike Mullins, from A&M, spoke about the Polymer Programs and SPE Student Chapter at A&M.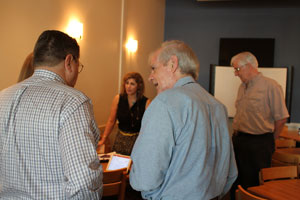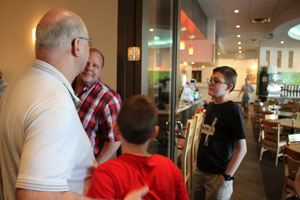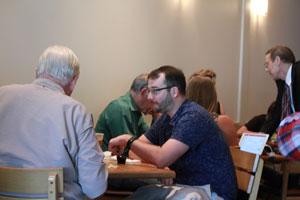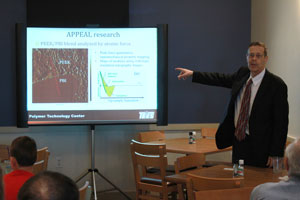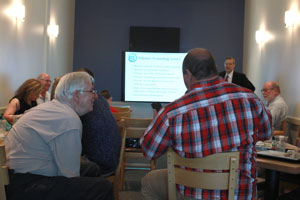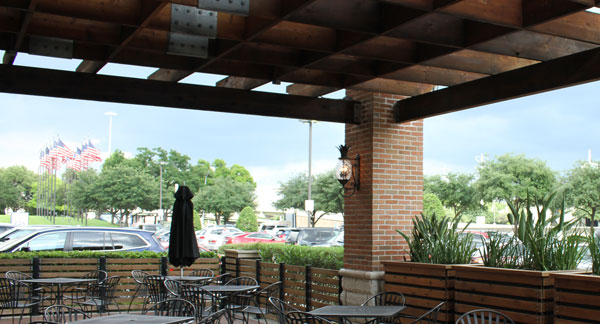 Plastics Information: Check It Out


The Houston Public Library on McKinney has resources on plastics and polymers. Check out their catalog at http://catalog.houstonlibrary.org. If you are not near the McKinney location, you can arrange to pick up your books at your local branch.
The Fondren Library at Rice University has the most complete collection of books on plastics and polymers. This is also a prime resource for patent and trademark information, as well as other US Government documents. You cannot check out books there unless you join Fondren Library [$50], but you can arrange for books to be sent to your library by inter-library loan. Use their catalog at http://library.rice.edu/.
The next best place to browse is at the MD Anderson Library at the University of Houston central campus. South Texas Section has donated many plastics books to this library. If you plan ahead, you can get a TexShare library card from a library where you are a member, which will allow you to check out books from any U of H library. Their catalog is at http://www.library.uh.edu/.



South Texas SPE 2017-2018 Board Meeting
Meeting Minutes
July, 2017

Attendees: Chuck Crosby, Ed Bourbonais, Dell Doyle, Tom Walsh, David Hansen, Iman Bahrani, and Steve King
The BOD had an empty spot for Vice President, Iman Bahrani volunteered to serve as VP
We opened the floor to discuss membership and the need to expand and grow our membership. The position for Membership Chair was vacant so Chuck Crosby stepped up with Tom Walsh as Co-Chair.
The technical program for the coming year will be managed by Dell Doyle with the support from Steve King.
Newsletter – This responsibility falls upon the VP so Iman Bahrani will handle this with the outgoing support of Dell.
Tom recommended attaching the newsletter to recruitment invites.
Looking to fill a position for the Young Professional. We are looking for a member to take on this challenge and work in conjunction with the Membership Chair to grow our members. If anyone knows of a potential leader for this position please pass along to the contact to either Chuck, Tom, or Steve.
Website transition is going very well. We took a couple of minutes to look at the site, nice job Joe, Janell, and Suzanne! A motion was made to move forward by Tom Walsh and seconded by David Hansen. The motion passed unanimously. One area mentioned was to ensure instructions on how to become a member were on the site. The BOD recommended moving forward to the launch. It should be complete before the end of July.
Budgets are being consolidated in QuickBooks. This effort is to centralize all information so we have a clear picture of our activities. We will also work to develop special budget for special events such as the POC, Golf Outing, etc.
Vinyltec – how do we support this event?
Discussed with Suzanne on how we expected to support. Set up of Vinyltec will be supported by Sue and Iman.
What is the commitment with the hotel, what is the commitment w/expenses? Steve will reach out to Rene Colyer to identify and will report at the next BOD. We need the list of participates. Iman will provide.
BOD meetings – In order to allow all members to plan to attend board meetings it was suggested we set up a schedule. The group agreed on the first Monday of each month so everyone can plan ahead. A set schedule will be sent to all BOD members by Steve King.  It was also recommended we utilize the Solvay office at 3737 Buffalo Speedway for phone and media equipment. As always a dinner after the meeting will be available.




A novel high-performance biobased polyamide
Fredrick Nzioka Mutua, Tingting Yang, Yuanbo Gao, and Yong He
Abstract
Poly(pentamethylene oxamide) exhibits excellent mechanical, thermal, and water absorption properties, and is suitable for the fabrication of plastics, as well as parts in the automobile and electronics industries.





Program Calendar
Date

Event Title

Event Specifics

Topic

Location

Time

09/20/17
SPE-STX Fall Kickoff Event
Astros vs White Sox
Social
Minute Maid Park
501 Crawford St, Houston, TX 77002
7:10 p.m.
10/03/17
Octoberfest Co-meeting with ASM
Social
St. Arnold Brewery
10/10-12/17
Vinyltec
The Vinyl Plastics Division and the South Texas Section are co-sponsoring Vinlytec 2017
New and Novel Materials and Processes to Solve Problems
Marriott Plaza San Antonio
555 S. Alamo Street San Antonio, TX 78205 – (map)
All day
11/17
Technical talk
TBD
TBD
TBD
12/17
Holiday Social
TBD
Social
TBD
TBD