President's Message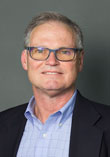 Dear SPE-STX Members,
I hope this finds all of our members safe and well from the most recent hurricanes. Times like this bring out the best in all of us. As always in the spirit of Texas many of our members opened their businesses and homes to those in need. Please find below more information on a couple of instances where a couple of our outstanding members helped neighbors, friends, and employees by providing shelter, food, and safety. Unfortunately this storm impacted thousands so please do not forget those who in times like this are still in need of our continued support.
We have just completed our first social event with an evening at the ball park with the Astros. We experienced a great turn out with many of you attending. Thank you! We hope this will continue for our next event that is planned for October 3rd at St. Arnolds where we will join ASME for a spectacular evening of fine food, spirits, and networking. See details below. We hope you will host friends with some encouragement for them to join SPE-STX. Another event we are supporting is Vinyltec2017 scheduled for October 10-12th. Details for these events are below.
We have had our new website up and running for a few weeks now. We hope you find it user friendly and helpful. Our primary goal is to support our members by providing a beneficial tool all can use. Please feel free to offer any feedback to us for ways to better serve you.
In closing I remind you of one main reason we are here. It is raise support for scholarships for many new students with financial support for education. We contribute significant dollars to many institutions. This would not be possible without the many of our members giving countless hours to this worthy rewarding cause. In order to continue this we need your support by volunteering today.many events.
Best regards,
Steve King



---
In The News
---
Vinyltec 2017
When: October 11-12, 2017
The Vinyl Plastics Division and the South Texas Section are co-sponsoring Vinlytec 2017-New and Novel Materials and Processes to Solve Problems
Additional information Click here to register
Where: Marriott Plaza San Antonio
555 S. Alamo Street San Antonio, TX 78205 – (map)
Next Breakfast Bunch Meeting
When: Octoberr 3, 2017
Where: I-Hop, 6508 Washington Ave., 77077, 7:00 AM (map)
Breakfast Bunch Meetings - The first Tuesday of each month all year.
---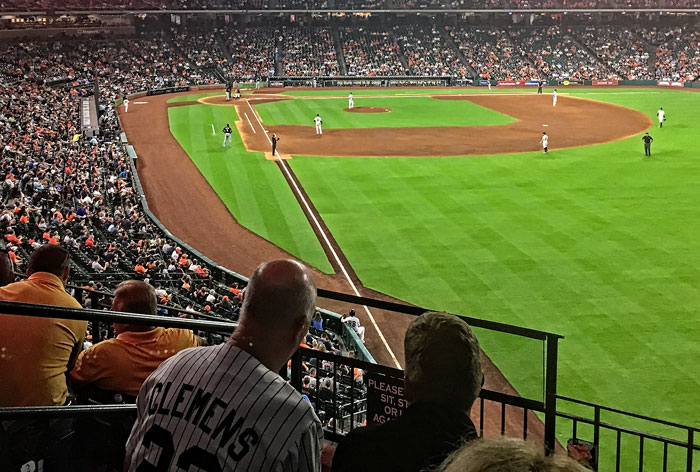 Fall Kickoff Event saw the Astros win a close game 4-3
Brad Peacock won his 12th game of the season as the Astors beat the White Sox 4-3 September 20. Some 40 SPE members and family enjoyed the win along with Dollar Hot Dog Night at the park!
Let's root for the Astros to go all the way to the World Series.





http://www.linkedin.com/groups?gid=2073302&trk=hb_side_g
Join the South Texas Section of the Society of Plastics Engineers on LinkedIn. Click on the above link and you will be directed to group page. LinkedIn serves as another communication tool for SPE-STX.
LinkedIn is a free web site for professional networking with over 300 million members in over 200 countries and territories.
LinkedIn enables discussions and networking between SPE-STX members and those related to the plastics industry. LinkedIn compliments the current SPE-STX web and membership to LinkedIn is free.
News Highlight
LinkedIn SPE-STX group currently has over 375 members as of 2014. To date, the tool has been used primarily to promote and discuss SPE-STX meetings.
Members are also notified of meetings from board members plus email blasts sent by SPE International.
As always, both the monthly newsletter and SPE-STX web site are the leading sources of information on SPE-STX activities.






Birch helps neighbors and employees after storm
Birch Plastics supports its employees and neighbors. Read the story reported in Plastic News:
Birch Plastics opens its warehouse to Houston neighbors - Plastics News
---
Jeff Applegate of Texas Injection Molding LLC, pitches in to help workers from Hurricane Harvey.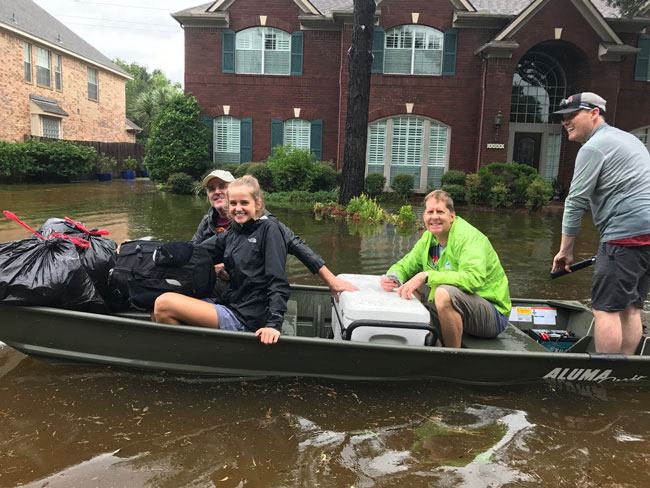 Read about it from the Plastics News





Plastics Information: Check It Out


The Houston Public Library on McKinney has resources on plastics and polymers. Check out their catalog at http://catalog.houstonlibrary.org. If you are not near the McKinney location, you can arrange to pick up your books at your local branch.
The Fondren Library at Rice University has the most complete collection of books on plastics and polymers. This is also a prime resource for patent and trademark information, as well as other US Government documents. You cannot check out books there unless you join Fondren Library [$50], but you can arrange for books to be sent to your library by inter-library loan. Use their catalog at http://library.rice.edu/.
The next best place to browse is at the MD Anderson Library at the University of Houston central campus. South Texas Section has donated many plastics books to this library. If you plan ahead, you can get a TexShare library card from a library where you are a member, which will allow you to check out books from any U of H library. Their catalog is at http://www.library.uh.edu/.



South Texas SPE 2017-2018 Board Meeting
Meeting Minutes
September 12, 2017

Attendees: Robert Portnoy, Ed Bourbonnais, Dell Doyle, Tom Walsh, Bill Diecks, Scott Owens, Iman Bharani, Kevin Alexander, and Steve King
Meeting opened at 5:00 PM
Tom made motion to approve previous meeting notes, Ed seconded, unanimously approved.
Reviewed previous meeting action items to bring those who missed the meeting up to date.
Review of technical program for the coming year were discussed by the group. Dell did a good job of preparing for the coming events. The
Astro's game night previously approved was organized. A motion by Tom was made to move forward with the proposed expenditure. It was seconded by Bill D. Additional meeting planned with ASM (American Society of Materials), and a social evening at St. Arnolds on October 3rd was reviewed. Plans are underway to send out invites. Dell will work with Janell to complete the invited. In addition to social events, several suggestions were made for technical presentations. Dell will compile the list and report the final selection at the next B.O.D. Mtg. Dell will work with Joe to upload events on the SPE-STX website.
Steve King reported that budgets were complete and located in a single place with Janell Helton managing. Suggested members of the various subcommittees reach out to Janell regularly to understand the status of their individual budgets.
There were no updates from any committee chairs.
Iman reported participation with Vinyltec 2017 was ready and that Scott, Suzanne, and she would be present. Kevin Alexander also agreed to participate.
Steve King will reach out to Ryan Reese for an update on the National Meeting.
It was discussed and agreed to share membership dashboard to the membership committee. Tom will reach out to membership with the support of Chuck.
No other topics were addressed.
om made the motion to adjourn the meeting with a second from Bill Diecks.
Meeting closed at 5:45PM.




Extending the boundaries - Bismuth Vanadate pigments for the plastics industry
Cristina Zanzottera PhD, Inorganic Product Manager, DCC
Harry Hamers PhD, Technical Service Manager, DCC
Bruce Howie PhD, Manager - Global Product Management and Marketing, DCC.
Abstract
Bismuth Vanadate (BV) pigments (C.I. Pigment Yellow 184) have increased in importance as their field of application has grown since their introduction in 1985 for use in the paints, coatings and plastics markets. They represent an interesting class of pigments, which extend the familiar range of yellow inorganic pigments (iron oxide yellow, lead chrome yellow, chromium titanate yellow, cadmium yellow and nickel titanate yellow). These bright yellow, highly saturated pigments are characterized by their outstanding opacity/hiding power, chemical resistance, excellent weathering and durability. They are valid candidates as alternatives to the green shades of the lead chromate and cadmium sulphide pigments.





Program Calendar
Date

Event Title

Event Specifics

Topic

Location

Time

10/11-12/17
Vinyltec
The Vinyl Plastics Division and the South Texas Section are co-sponsoring Vinlytec 2017
New and Novel Materials and Processes to Solve Problems
Marriott Plaza San Antonio
555 S. Alamo Street San Antonio, TX 78205 – (map)
All day
11/17
Technical talk
TBD
TBD
TBD
12/17
Holiday Social
TBD
Social
TBD
TBD