---
President's Message
Dear SPE-STX Members,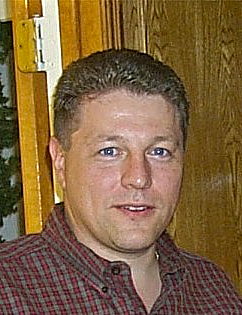 The Polyolefin Conference 2020 held February 23rd thru 26th was a great success and attended by many of our local members and others throughout the world. We had several attendees and exhibitors prohibited to travel to the USA due to the covid-19 virus pandemic and despite those not able to attend, we had attended at or near record levels. There many lots of positive feedback about the content and trade show, and our committee will make further improvements to the conference experience. If interested review details of the event on our web site at www.spe-stx.org.

With the uncertainly of people attending events due to the covid-19 pandemic, events such as our annual Astros baseball game come into question. We are investigating other events that our members could participate however remotely. We will keep you posted on any that develop.

I'd like to welcome those new members that have recently joined SPE-STX and look forward to having these new members be involved in the local section or with Polyolefins 2021. I also want to thank all our volunteers that coordinated and ran the conference. Without these volunteers SPE-STX would not be able to raise the funds we use for scholarships to our Texas Universities and Colleges.

The SPE-STX is looking to operate additional conferences to raise funds and will provide ample opportunity for members to become involved. For those interested in Plastics in Oil and Gas applications or for Agriculture watch for more details in the next couple of months.

Sincerely,
Peter Lauzon, President

The International Polyolefins Conference 2020 Sunday Tutorials were well attended.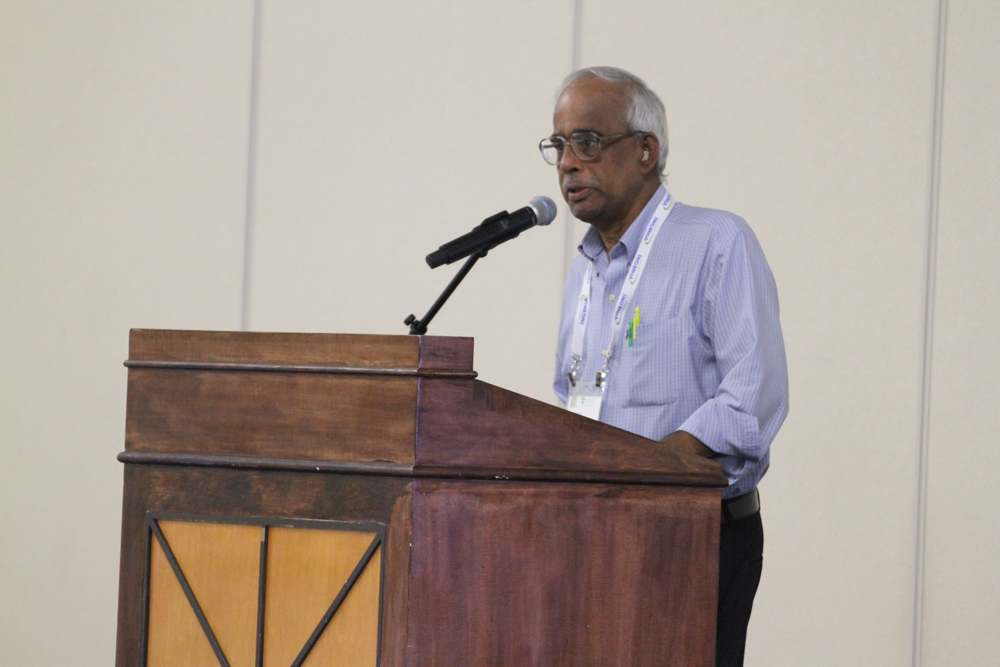 Tutorial Session Monitor Pal Arjunan, Eureka-Blobchem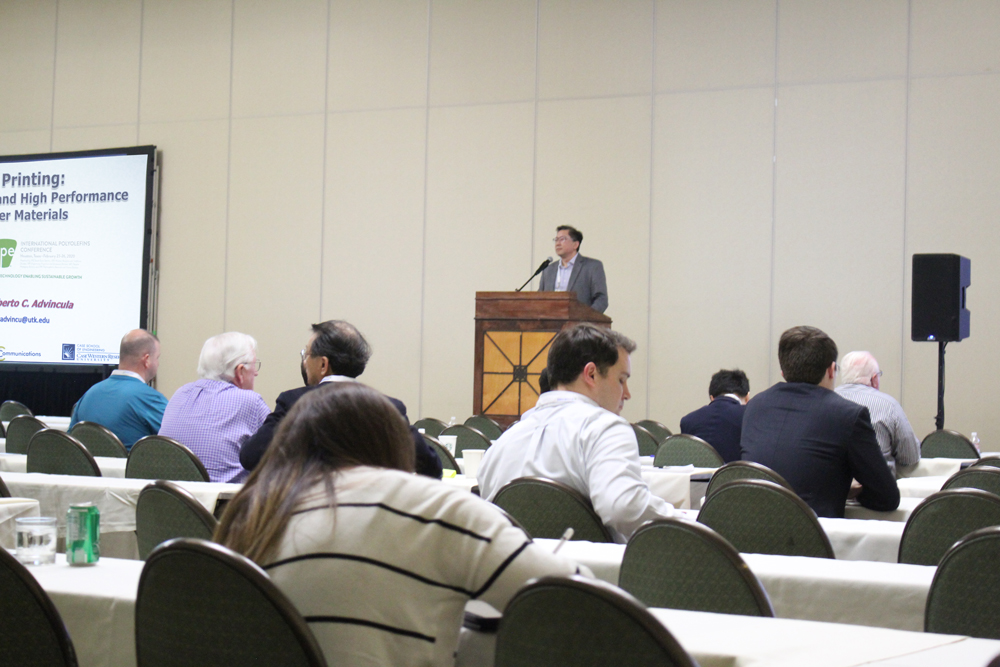 3D Printing in Polyolefins - An Update, Roberto (Gobet) Avincula - Case Western University

PP Sustainability, John M. Layman – P&G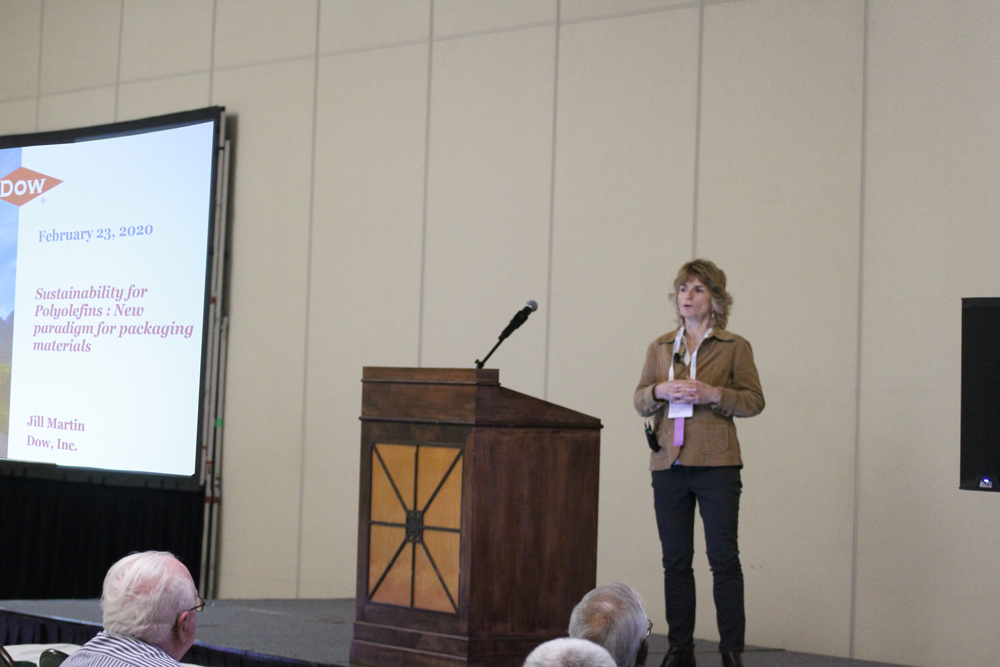 PO Sustainability Measures, Jill Martin – Dow Chemical
POC Student Dinner
The student dinner provided time for students to hear from each other in their studies of polyolefins-related fields and conversations with some of our section leaders.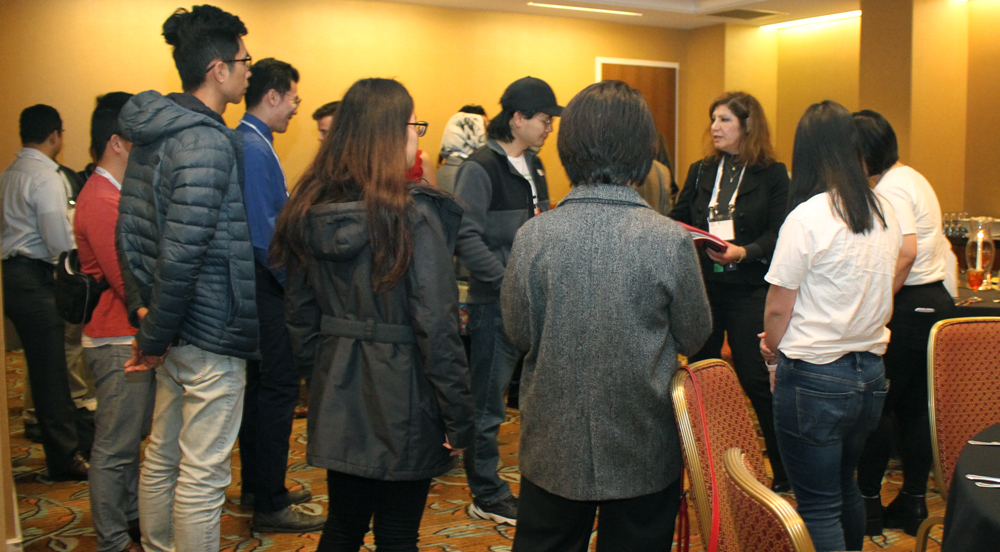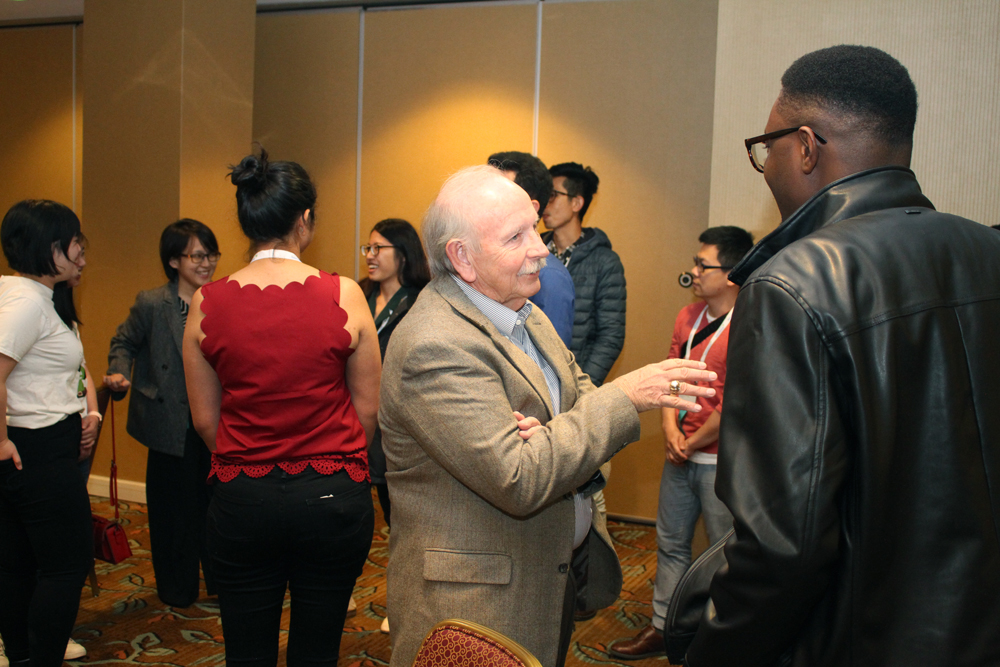 ---

---
Conference Chair, Fernando Cevallos Candau, W.R. Grace, starts off this year's conference
The Polyolefins Conference Plenary Monitors, Clifford Lee and Luyi Sun, annouced the distingished speakers of the day. Every guest speakers had an attentive audience and answered their questions after summation.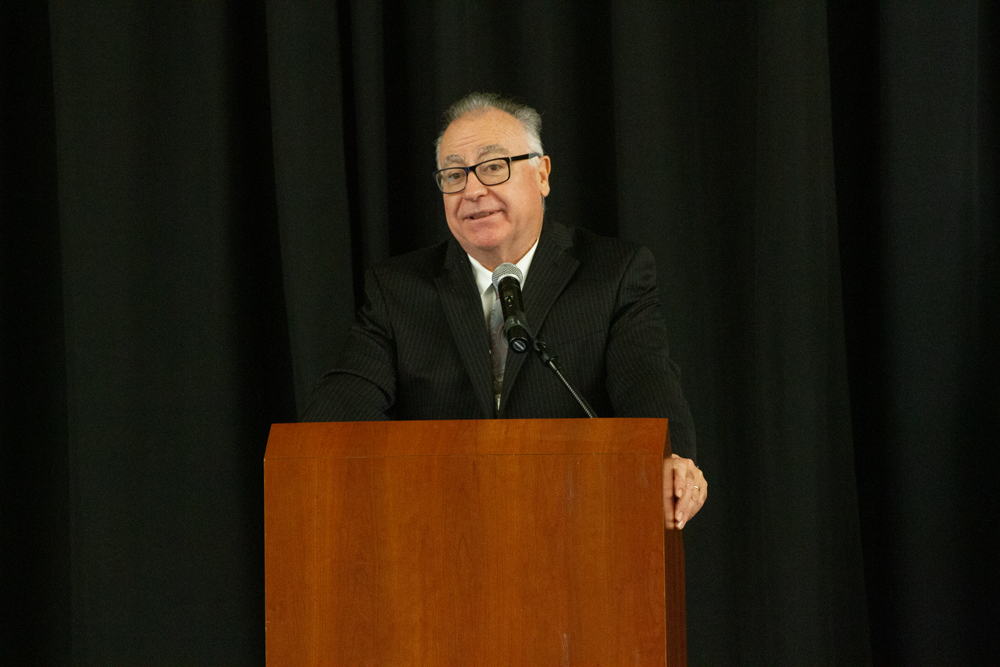 Conference Chair Fernando Cevallos Candau, W.R. Grace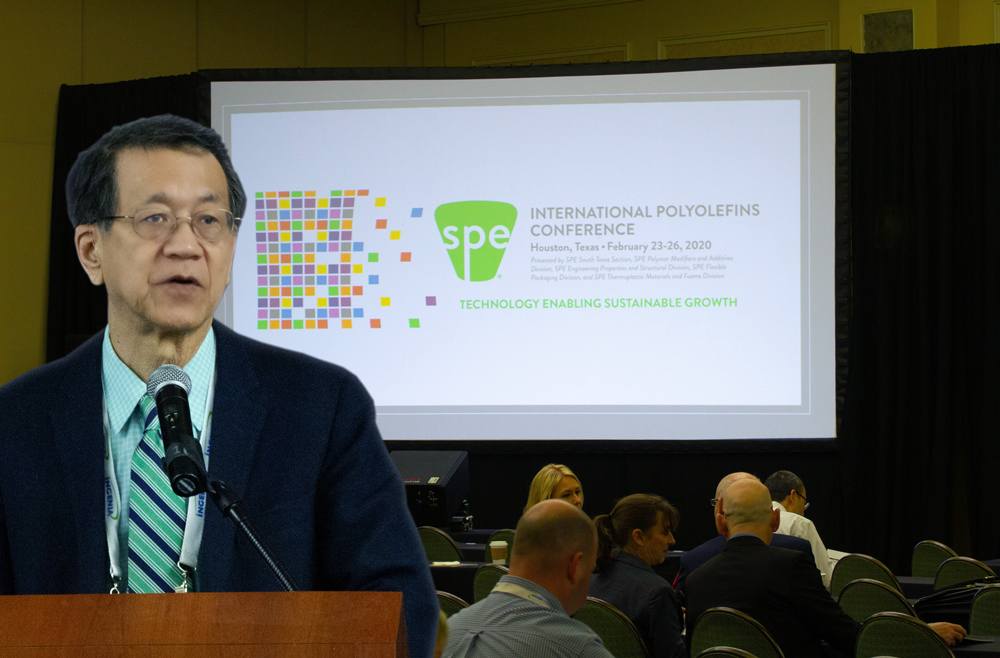 Plenary Monitor Clifford Lee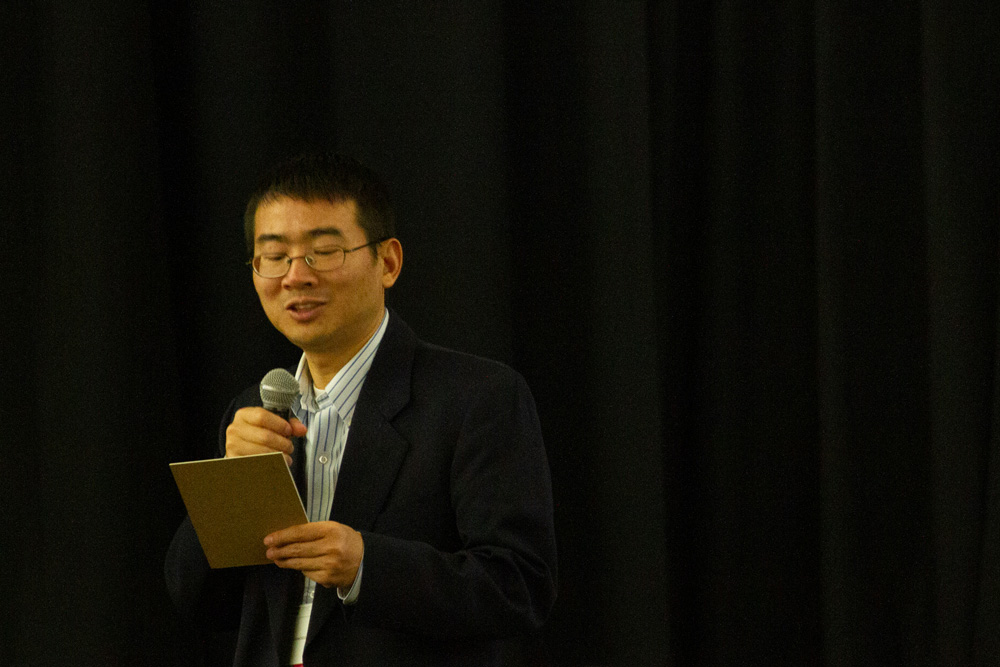 Plenary Monitor Luyi Sun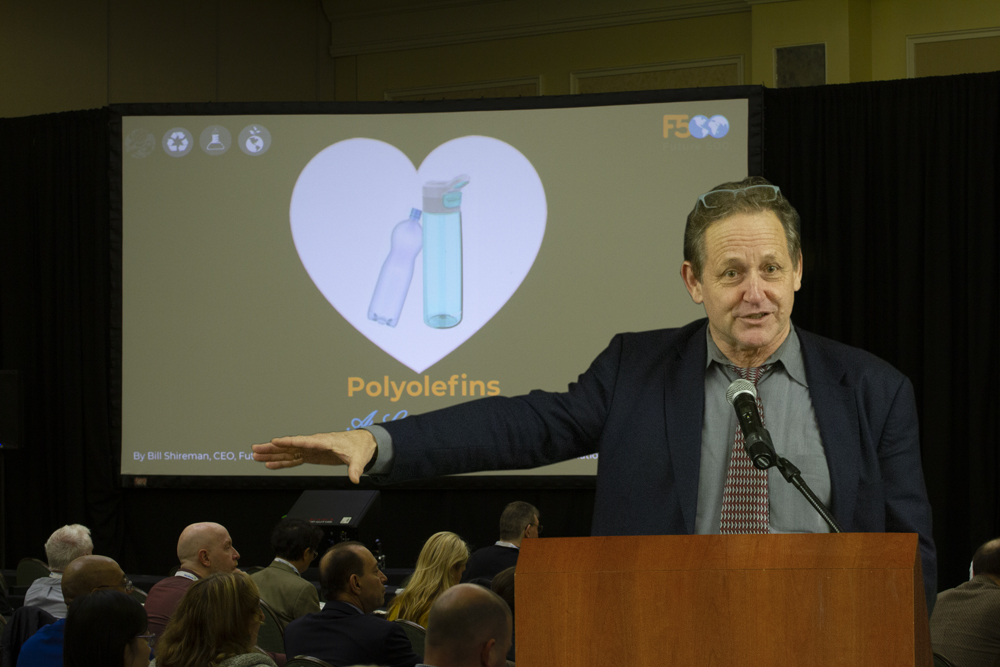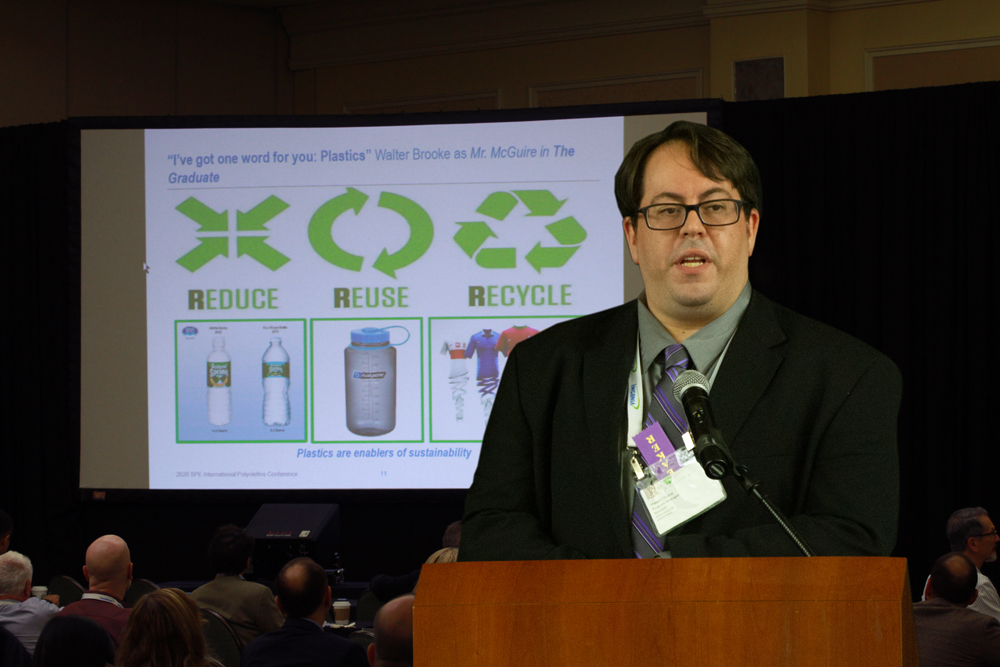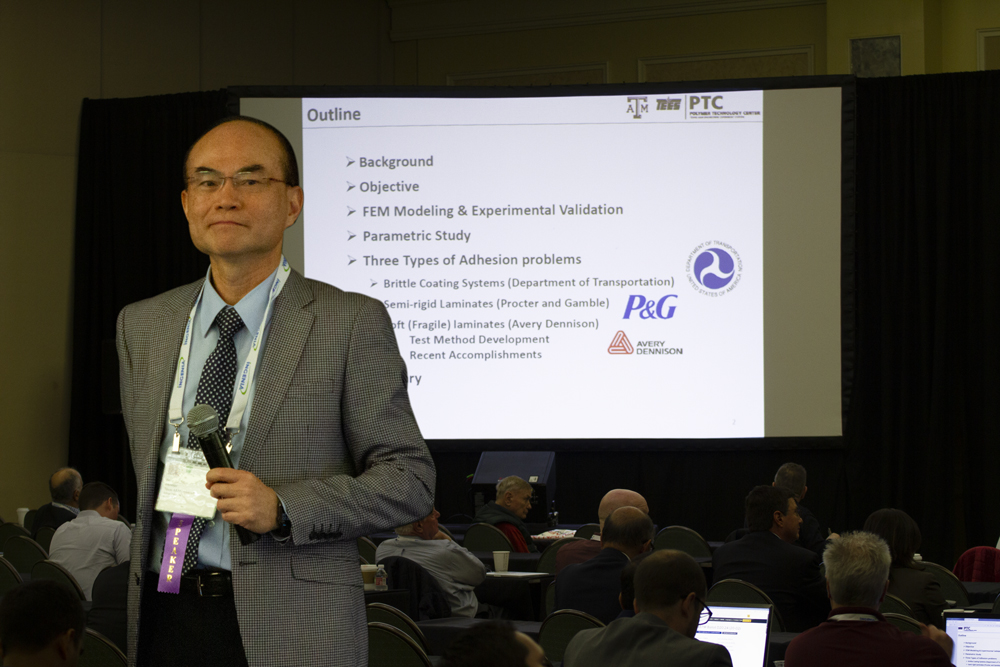 ---

Lobby contruction required an innovative solutions for exhibitors executed by Renée Colyer, J.M. Huber Corporation, and Exhibit Chair Kevin Alexander, KWA-Tech, Inc.
The traffic of attendees flowed flawlessly for the exhibitors.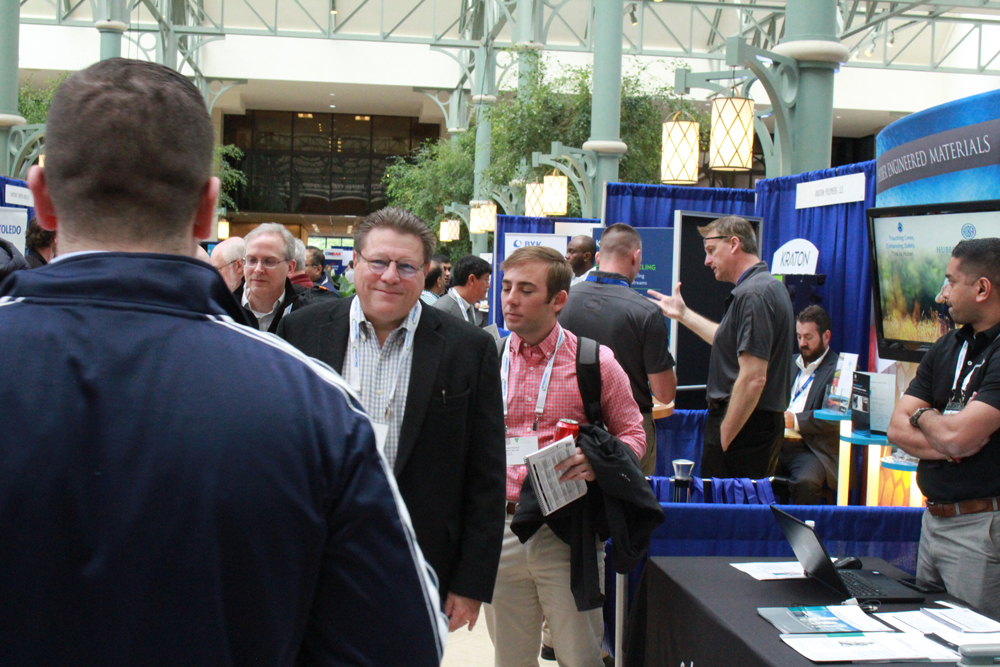 ---
Welcoming Reception Sponsored by PMC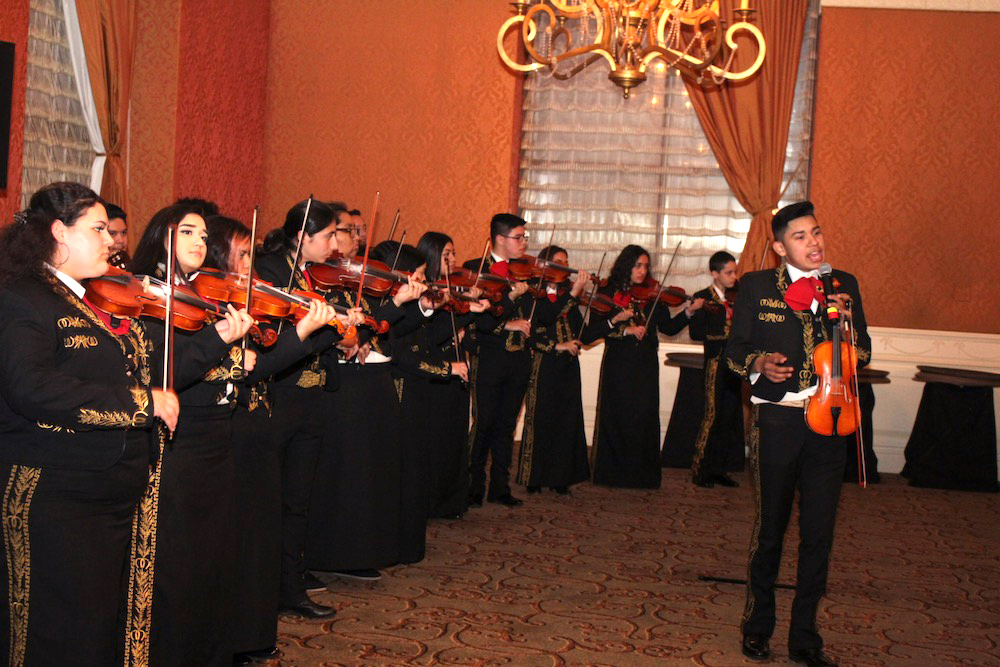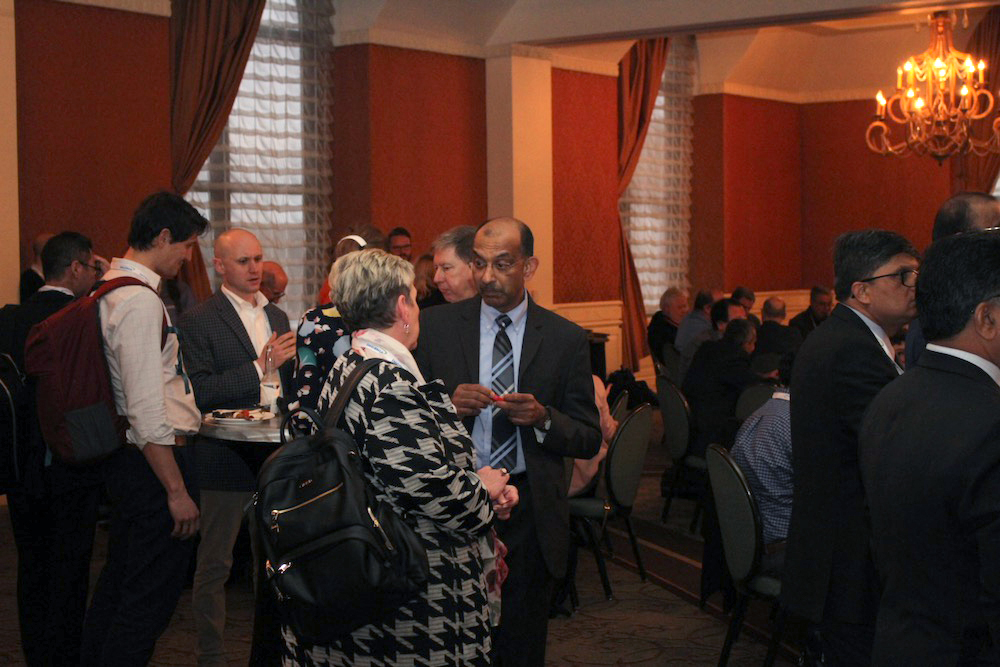 Student Awards Luncheon
2020 International Polyolefins Conference Scholarship Winners:
Given by South Texas Section

Timothy Russell-Baylor University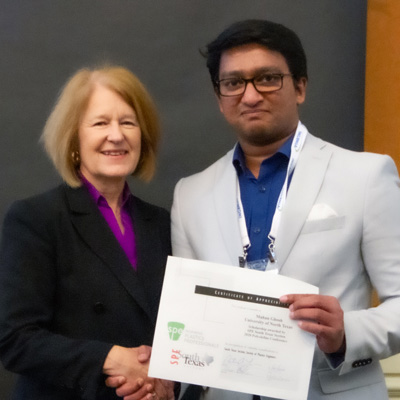 Mahan Ghosh-University of North Texas
Given by Flexible Packaging Division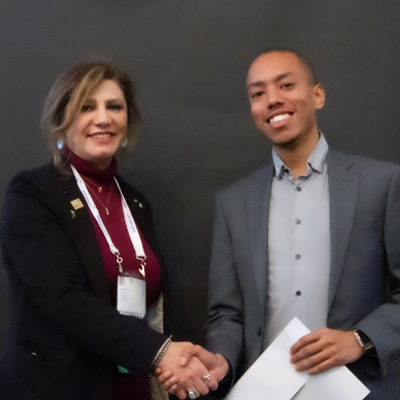 Anthony Keyes-University of Houston

Given by Polymers Modifiers & Additives Division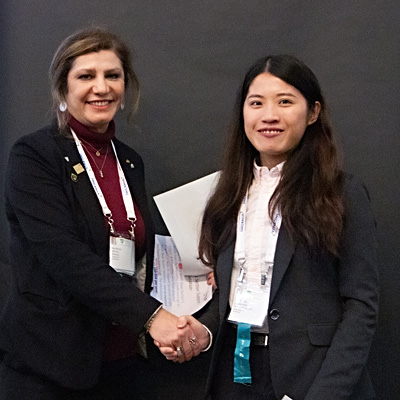 Chia Ying Tsai-Texas A&M

Damilola Rumsewe-Texas State University
Given by ThermoPlastic Materials & Foams Division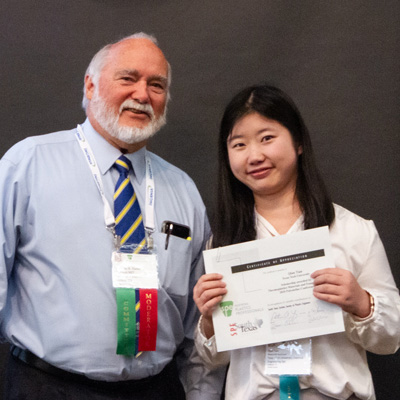 Qian Tian-Texas Tech University

2020 International Polyolefins Conference Poster Contest Winners:

1st Place-Chia-Ying Tsai
Scratch Behavior of Long-chain Branched Polypropylene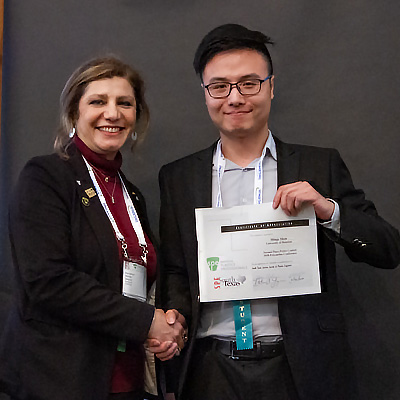 2nd Place-Minje Shen
Sustainable & Degradable Lignin-Based Epoxy Resins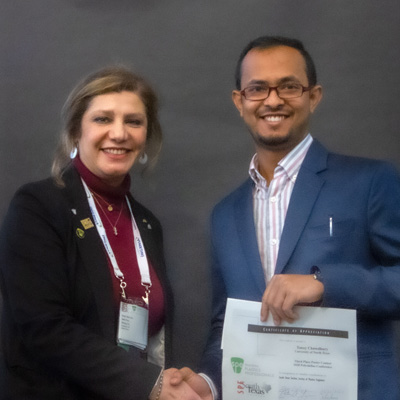 3rd Place-Tonoy Chuwdury
Impedance & Non-Contact Based Multifunctional Polymer Textile Sensor

Tuesday ends with a Marching Band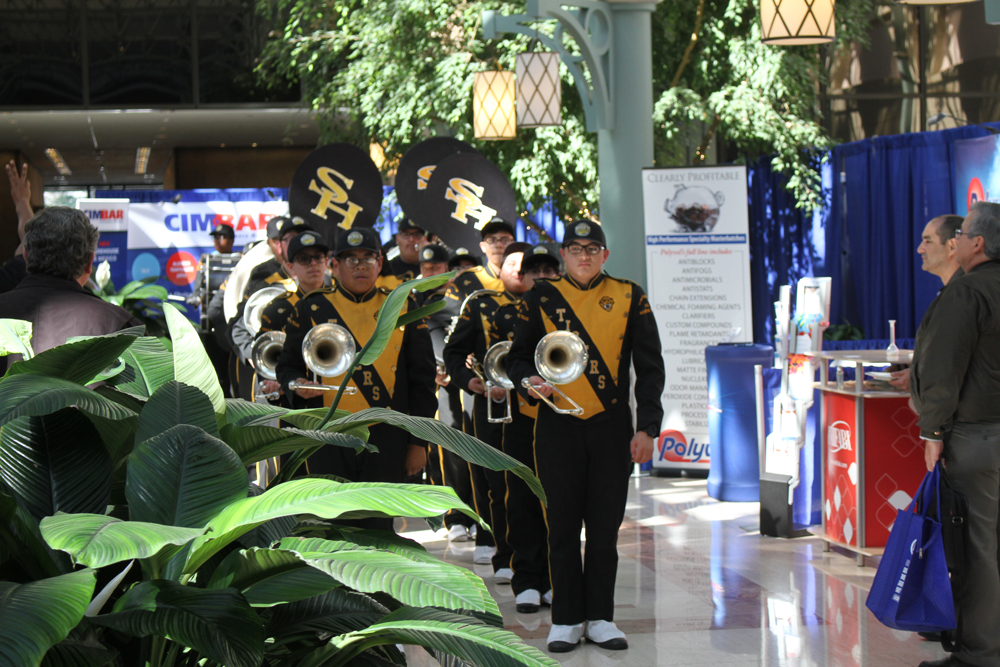 ---
High Density Polyethylene Blends for Additive Manufacturing
Craig F. Gorin, Daniel L. Dermody, Scott T. Matteucci, Joseph Harris, Paul R. Vlasak, The Dow Chemical Company, Midland, MI Jun Li, Sanjib Biswas, Nathan Wilmot, The Dow Chemical Company, Lake Jackson, TX
Abstract
High density polyethylene is challenging to use in standard additive manufacturing methods today, but would provide desirable properties such as chemical resistance, lightweighting, and durability to enable applications beyond prototyping. In this work, we describe high density polyethylene blends with highly branched polyethylene or polyethylene copolymers that improve adhesion and reduce warpage, significantly improving printability in standard filament extrusion 3D-printing methods.


---
South Texas SPE 2019-2020 Board Meeting
Minutes of the Meeting of the South Texas Board of the Society of Plastics Engineers – 3/09/2020
The SPE-STX BOD meeting was held by phone conference.
Attendees

| | | |
| --- | --- | --- |
| --- | | --- |
| Peter Lauzon, President | | Tom Walsh, Secretary |
| Steve King, Past President | | John Wagner, Member at Large |
| Richard Keeler, Treasurer | | Janell Helton |
| Iman Bahrani, President  Elect | | Clifford Lee, Member at Large |
| Preston McDaniel | | Robert Portnoy, Councilor |
| --- | | --- |
Opening
Peter Lauzon opened the Board meeting at 6:05 PM.
Approval of Minutes
Tom Walsh moved to accept the minutes of the February meeting as published. Steve King seconded the motion. The motion passed unanimously.
Polyolefins Conference 2020
Tom Walsh reported on the analysis conducted on the recent 2020 International Conference on Polyolefins. The report is attached. Based on the analysis provided, there was an extended discussion about the structure and value proposition of the Conference. Board members made the following comments:
The Conference is dominated by additive suppliers, equipment suppliers and service companies to the polyolefin industry.

While Resin Manufacturers do send attendees, moderators, speakers and committee members, they are not supporting the conference with exhibits or sponsorships.

We are not getting converters/manufacturers to attend the conference. What do we need to do to attract more converters/manufacturers?

Converters want to hear about new products, new process, new fabrications.

In order to attract converters as well as resin manufacturers, we would need to develop session on extrusion processing, pelletizing, material handling, conveying systems, packaging, handling warehousing, etc.

New technology sessions on compounding and extrusion processing were offered in the past and the conference had multiple exhibits from compounding equipment manufacturers. We should look at sessions of this type again.

The Tutorial Session was originally intended as introductory sessions for new engineers, converters and non-technical attendees. It is no longer operating in that sense. It was suggested to focus the tutorial on compounding/finishing extrusion and other material handling topics.

The South Texas Section needs to become more involved in the Program organization. We need to recruit session organizers for the conference as well as organizing committee volunteers.

It was asked if we are late to the market with our publicity for the conference. If we developed the Theme for the Conference and an initial program for the Plenary Session could we start publicity earlier.

It was noted that larger organizations usually have their annual budgets in place in October. Our publicity needs to be in place in August/September so attendees can start planning for the next conference.

Sustainability is a hot topic and we have now concentrated on it for the 2020 conference. We need an early focus on the Theme for the next conference.

It was discussed that Headquarters has put out a lot of publicity for ANTEC but nowhere near that amount for the Polyolefins Conference.

It was mentioned that social media has a lot of discussions on extrusion, converters and extruder topics.

It was discussed that the current Coronavirus crisis point out how lucky our timing for the current conference was. ExxonMobil reportedly changed their policy during the week of our conference prohibiting attendance at large conferences. If this crisis had developed earlier, we would have had significant problems and might have led to the cancellation of the conference. This would have had a catastrophic economic impact of the South Texas Section. We need keep this in mind for future conferences.

Peter Lauzon prepared and circulated a survey to the exhibitors and has just sent out a survey to the attendees. He will report on these surveys at the next meeting.
Next Meeting
The second Monday in April (4/13/2020)
Adjournment
The meeting was adjourned at 6:58 PM.
---
Observations from the 2020 International Conference on Polyolefins
The demographics of the registrations from the 2020 Conference were the following:

Additive Companies 204 (31%)
Compounding Companies 33 (5%)
Distribution Companies 26 (4%)
Equipment Suppliers/Companies 50 (7%)
Film Converters 10 (1%)
Manufacturing/Converting Companies 11 (2%)
Packaging Companies 8 (1%)
Polymer-resin Manufacturers 138 (21%)
Service Companies 78 (12%)
Universities 91 (14%)
Press 4 (<1%)
Other 7 (1%)
Total 660
---
The breakdown of the exhibitors from the 2020 Conference was the following:
Additive Suppliers 30 (47%)

Compounding Companies 4 (6%)
Distribution Companies 4 (6%)
Equipment Suppliers 16 (25%)
Film Converters 0 (0%)
Manufacturing/Converting Companies 0 (0%)
Packaging Companies 0 (0%)
Polymer-resin Manufacturers 1 (2%)
Service Companies 7 (11%)
Universities 2 (3%)
Other 0 (0%)
Total 64
---
Analysis of All Registrations:
Committee Member Registrations 41 (6%)
Exhibitor Registrations 90 (14%)
Guest Registrations 18 (3%)
Press Registrations 8 (1%)
Speaker Registrations 94 (14%)
Sponsor Registrations 15 (2%)
Student Registrations 64 (10%)
Paid Registrations 293 (45%)
Exhibit Hall Only Registrations 29 (4%)
SPE Emeritus Member Registrations 7 (1%)
---
Plastics Information: Check It Out
Houston Public LibraryThe Houston Public Library on McKinney has resources on plastics and polymers. Check out their catalog. If you are not near the McKinney location, you can arrange to pick up your books at your local branch.
The Fondren Library at Rice University has the most complete collection of books on plastics and polymers. This is also a prime resource for patent and trademark information, as well as other US Government documents. You cannot check out books there unless you join Fondren Library [$50], but you can arrange for books to be sent to your library by inter-library loan. Use their catalog.
The next best place to browse is at the MD Anderson Library at the University of Houston central campus. South Texas Section has donated many plastics books to this library. If you plan ahead, you can get a TexShare library card from a library where you are a member, which will allow you to check out books from any U of H library. Their catalog is here.

---
Calendar of Events
| DATE | EVENT | LOCATION | TIME |
| --- | --- | --- | --- |
| April | New Technology & Social Meeting | TBD | |
| May | Astros | | TBD |
| June | Regional/Americas/Global Topics | | TBD |

---

Board of Directors
Section Officers
President
Peter Lauzon
Plastic Pipeline Integrity
President Elect
Iman Bahrani
Omya, Inc
Past President 
Steve King
Solvay
Vice President 
Dell Doyle
Dow Chemical
Secretary
Tom Walsh
Walsh Consulting
Treasurer
Richard Keeler
Kisuma Americas
Councilor
Robert Portnoy
Portnoy Technical Services

Committee Chairpersons
Awards Committee Chair –
Kevin Alexander
KWATech, Inc.

Education Committee Chair –
David Hansen
SBC Consulting

Housing
Renee Colyer
J. M. Huber Corporation

Membership Committee Co-Chairs

Chuck Crosby
Braskem Americas

Tom Walsh
Walsh Consulting Services

Newsletter –
Iman Bahrani
Omya, Inc.

Technical Program
Dell Doyle
Dow Chemical

Young Professional Chair
Robert Portnoy
Portnoy Technical Services
Polyolefins 2020 Chair
Fernando Cevallos Candau
W.R. Grace
Sporting Clays
Peter Lauzon
Plastic Pipeline Integrity

Board Members
David Hansen
SBC Polymers consulting
Robert Portnoy
Portnoy Technical Services
Monica Rodriguez
Kisuma Americas
John Wagner
Consultant
Preston McDaniel
Dow Chemical
Matt Zwick
Tarquin
Clifford Lee
Townsend Solution


---
Web Content/Section Coordinator
Janell Helton
Houston, TX 77084
713-503-6729
jdhelton@comcast.net


---