---
President's Message
Dear SPE-STX Members,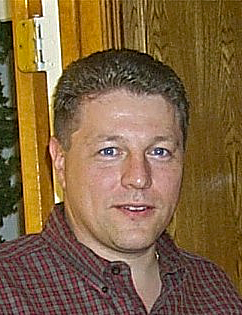 I hope all our members and their families are staying safe and doing well during this unprecedented national crisis. I know many of our work lives or businesses are severely impacted by this rapid upheaval in the economy. Although many support business are severely impacted, our region's economic situation remains strong which plays a vital role in providing feedstocks and goods that our medical front-line workers are using along with providing protective packaging that preserves our food supply.
These are truly great examples of the need for having plastic materials available and made in the USA. The shortages of protective-gear within the USA brings to light the long supply-chain from overseas due to the exporting of many of our converter manufacturing jobs. I suspect the USA and the region will undergo an economic boom with the development of manufacturing facilities that will make the USA self-reliant for medical equipment and supplies.

As I suspect many of our members are helping our community in various ways, and I do have a story to share with you.
A member of my extended family is a nurse in the medical field and of course has concerns of being exposed or exposing others to covid-19. A number of these nurses and their friends wanted to sew surgical masks for medical workers and patients that work or visit clinics which perform various infusion treatments to patients. Many of these patients are elderly and are in the high-risk category for covid-19. Since nearly all the N95 masks, so often mentioned in the news are being reserved for front-line workers (medical, emergency personnel, etc..), none are available for these secondary needs at clinics for both workers and patients.
I was contacted by the person working with the nurses to design a sewn mask that has similar performance to that of the N95 masks which can stop germs and most viruses. The goal was to design a mask that could be reused from widely available materials and be completely hand assembled using sewing processes. One suggestion was to use a typical house-hold HVAC air handler filter as part of the design.
I took to the task using all of that Sunday delving into the performance details of the N95 masks and comparing that to HVAC air-filters. Not surprisingly a performance grade HEPA filter (MERV-13) has similar filtering properties to that of the N95 mask. I provided calculations for pressure drop across the house-hold air filter given the size constraints of the typical sewn mask and verified the design. I also mentioned that the sewn portion of the mask can be washed, but the performance properties of the air filter are altered if getting wet let alone in contact with detergent. Therefore, I suggested the design have a sewn mask with a pocket that allows for removal of the air filter. The use of the sewn mask would require washing of the cloth and replacing of the air filter segment. If needing to reuse the air filter segment, that sterilization would be needed and to use a UV light for several hours.
Upon the verification of the design performance, the ability to replace the filter segment, and the ability re-sterilize the air-filter segment using UV light, the folks sewing the masks took to task and have been busily working ever since.

This is a very positive story about our entire community pulling together with each using their unique talents. It is also a cautionary tale that in a short amount of time "air handler filters" maybe in short supply. You may want to purchase a few extra air filters and place them next to your toilet paper cache.

Stay Safe!

Peter Lauzon, President SPE-STX

---


---
How SPE Members Can Support Graduates Entering The Workforce
The Connections You Have That You Don't Know You Have
When students or university counselors approach members of SPE-South Texas Section about employment opportunities, we need to reach out to those business connections we have made throughout our careers. 
It is important to understand that today's environment makes it difficult for graduating students to find full time employment. However, just look back at your own career and you will be surprised just how many contacts you have made.
So how do we participate with the HR recruiters? 
Every member (whether your work is technical, sales, or management) should reach out to the HR department. Inform HR that there are excellent prospects for recruitment within those students we have worked hard to support. If HR shows interest, then you can give those students and counselors a great avenue to pursue employment. Every company can gain from the young minds of these graduates.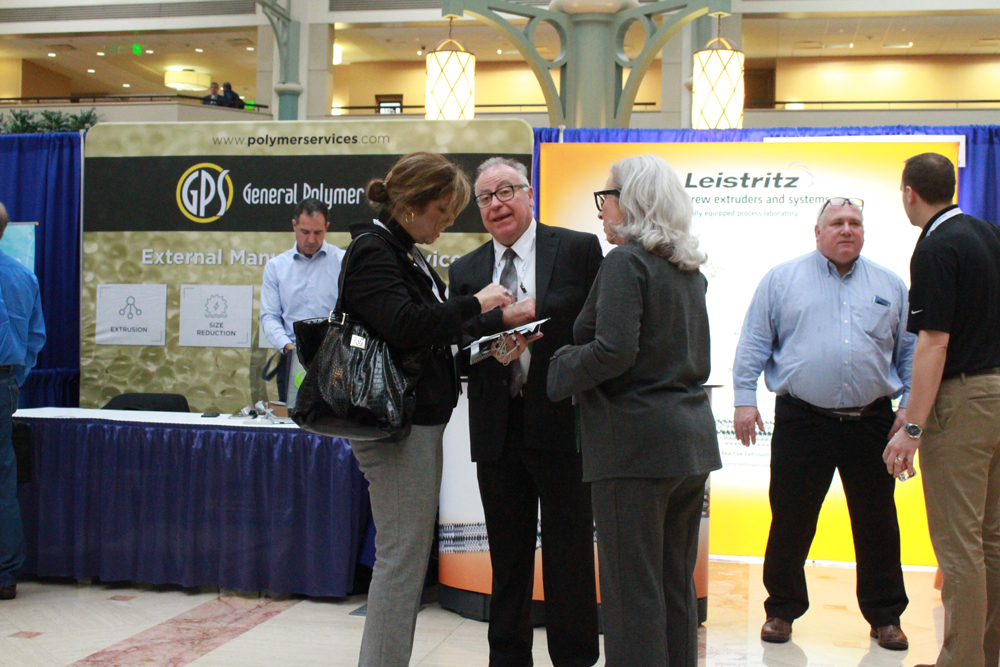 ---

Analysis of the 2020 Polyolefins Conference Attendees
| | |
| --- | --- |
| Polymers/Resin Manufacturers Registrations | 131 |
| Additive/Filler/Modifier Suppliers | 137 |
| Compounders | 35 |
| Flexible Packaging | 18 |
| Non-US Attendees | 73 |
| US Attendees | 586 |


---
The Importance of Chemical Stabilization in Recycled Material for Corrugated and Conduit Polyolefin Pipes
Ian P. Query and Robert L Sherman Jr., Baerlocher USA, Cincinnati, OH
Abstract
Much attention has been given to stabilization packages for polyolefin pressure pipes over the past couple decades, however corrugated and conduit pipes have generally been ignored with respect to more robust stabilization packages. Certain groups such as the Florida Department of Transportation have set rules establishing oxidative resistance in HDPE corrugated pipes, but few others have followed this example. A discussion of the simplicity and importance of pipe resin stabilization as well as examples from stabilized pipes will be covered.

---
South Texas SPE 2019-2020 Board Meeting
Minutes of the Meeting of the South Texas Board of the Society of Plastics Engineers – 4/09/2020
The SPE-STX BOD meeting was held by phone conference.
Attendees

| | | |
| --- | --- | --- |
| --- | | --- |
| Peter Lauzon, President | | Tom Walsh, Secretary |
| Steve King, Past President | | John Wagner, Member at Large |
| Richard Keeler, Treasurer | | Janell Helton |
| Iman Bahrani, President  Elect | | David Hansen, Member at Large |
| Preston McDaniel, Member at Large | | Robert Portnoy, Councilor |
| --- | | --- |
Opening
Peter Lauzon opened the Board meeting at 6:12 PM.
Approval of Minutes
Tom Walsh asked to accept the minutes of the February meeting as published. With no comments or changes, the March minutes were accepted by the Board.
Councilor Report
No report
Financial Report
No report
Polyolefins 2021 Discussion
POC 2021 Topics

Tom Walsh reported at the March Board meeting on the analysis conducted on the 2020 Polyolefins Conference. That report is Attachment 1 to these minutes.
Peter Lauzon reported at the March Board meeting on the results of the survey of exhibitors. The current results of the survey of attendees is shown in Attachment 2. Peter suggested that the survey for the exhibitors could be included as a link in their Welcome Package listing local restaurants. A raffle could be developed to incentivize exhibitor respondents. We could also develop a similar welcome package for attendees also including a link to the attendee survey. A raffle could be developed to incentivize attendee respondents.
Tom Walsh reported on a demographic analysis of the membership of the South Texas Section. That report is Attachment 3 to these minutes. Based on the Analysis of the POC in conjunction with the Analysis of South Texas membership the following points were discussed:

The membership of the South Texas Section is diverse.

Our Resin/Polymer manufacturer members, while diverse, is concentrated in polyolefins.

We do not provide value to our non-polyolefin manufacturing members (CPVC, PVC, TPE, Engineering Polymers, Fluoropolymers).

Our compounder/concentrate members also appear polyolefin centric.

The STX Section is not providing value to our non-polyolefin-oriented compounding members.

The STX Section does have a significant number of converter members (25).

The STX Section does not have a significant number of converter members that are supplying into the oil and gas industry. Yet the oil and gas industry are concentrated in Texas and in the Houston region.

The STX Section needs to think of ways to attract new members from the oil and gas industry,

Another large industry in Texas is agriculture.

The STX Section is not addressing any of the needs of the Texas agriculture industry, which is a large user of plastic materials.

Another large industry in Texas and Louisiana is the chemical industry. Corrosion resistant non-metallic products have high demand in the chemical process industry. The National Association for Corrosion Engineers (NACE), which is based in Houston, sponsors an annual conference on corrosion and corrosion mitigation and prevention. The STX Section is not addressing corrosion topics at all.

Another large industry nationwide, not just in Texas, is infrastructure. This includes underground piping and renewal technologies for piping and pipeline rehabilitation. The STX Section is not addressing infrastructure, piping or pipeline rehabilitation topics.
In the continuing discussion of potential directions for the 2021 Polyolefins Conference, Board meeting members made the following comments:
It was noted that the Polyolefins Conference is dominated by additive suppliers, equipment suppliers and service companies to the polyolefin industry.
Polymer and resin manufacturers do send attendees, moderators, speakers and committee members but they are not supporting the conference with exhibits or sponsorships.
We are not getting converters/manufacturers to attend the conference. What do we need to do to attract more converters/manufacturers? Converters want to hear about new products, new process, new fabrications. In order to attract converters as well as resin manufacturers, we would need to develop sessions on Piping, Injection Molding, Thermoforming, Rotomolding, and Blow Molding, as well as extrusion processing, pelletizing, material handling, conveying systems, packaging, handling warehousing, etc.
New technology sessions on compounding and extrusion processing were offered in the past and the conference had multiple exhibits from compounding equipment manufacturers. We should look at sessions of this type again.

The Tutorial Session was originally intended as introductory sessions for new engineers, converters and non-technical attendees. It is no longer operating in that sense.

It was suggested to focus the tutorial on compounding/finishing extrusion and other material handling topics.
Another suggestion was to replace the Tutorial Session with a new session(s) that would not be polyolefin-centric, specifically, Polymers in Oil and Gas Applications. The currently allotted time for the Tutorial Sessions in Polyolefins could become an experiment to see if there is adequate interest in this area to develop a totally separate TOPCON. Using the available time would be a very safe way to experiment on the attractiveness without significant financial exposure. Several of the Board members were supportive of exploring this option. The discussion did state that the success of the Polyolefins Conference through the years has been that it is Polyolefin-Centric, and the proposal should not interfere with that focus. Two Board members mentioned attending the Engineered Polymers Group's meetings, which are focused on Oil and Gas Applications of Polymers. They will provide more information on this group,
Potential topics for TOPCONS discussed included the following:
▪ Polymers in Oil and Gas
▪ Polymers in Agriculture
▪ Polymers in the Chemical Process Industry
▪ Polymers and Corrosion Resistance
▪ Polymers in Infrastructure Applications
It was discussed that Louisiana, Oklahoma and Texas as well as Houston are Oil and Gas centric. We need to explore the topic of Polymers in Oil and Gas. Using the Polyolefins Conference as a low risk venue to experiment with a separate focused set of topics such as Polymers in Oil and Gas is worth exploring.

Currently, there are multiple partnering divisions participating in the Polyolefins Conference:


Polymer Modifiers and Additives Division

Thermoplastic Materials and Foams Division

Flexible Packaging

Engineering Properties and Structure

The question was asked what value added do these partners bring to the conference? The Polyolefins Committee should address this question with these partners. Are these divisions able to provide more support in attracting more converters, more exhibitors, and especially new sponsors? This needs to be addressed. In addition, the South Texas Section needs to become more involved in the Program organization. We need to recruit session organizers for the conference as well as organizing committee volunteers. Preston McDaniel stated that he thought that having a job to do, such as organizing and moderating a session at the conference would be attractive to several of his colleagues. He agreed to approach them with this concept.
Peter Lauzon added that we need to attract more converters both as attendees and as presenters.
This brought up the question of what topics to address in the upcoming 2021 conference. We need volunteers to focus on topics that are attractive to both the resin manufacturers and to converters.
Suggested topics included the following:

Pipe

Processing and Handling Equipment

Innovation

3D Printing

Blow molding

Injection Molding

Rotomolding

Thermoforming

Fee structures for the conference were also discussed briefly. It was discussed that Kevin Alexander has probably raised Exhibitor fees enough. We did not sell out the exhibits this time. Tom Walsh has provided a listing of competitive commercial conferences and our fee structure is very low (Attachment 4). We could easily increase the differential for SPE Members and non-SPE members. There were a total of 52 registrations that paid the non-SPE member rate. Why?
Again, it was discussed, that the current COVID-19 crisis pointed out how lucky our timing for the 2020 conference was. If this crisis had developed earlier, we would have had to cancel the conference. This would have had a catastrophic economic impact on the South Texas Section. We need keep this in mind going forward.
It was pointed out that epidemiology experts are worried that next winter will see a re-occurrence of COVID-19 and a vaccine may not yet be available. We need to monitor this situation and plan for potential disruptions of the conference. If COVID-19 becomes active next winter and social distancing is put back into effect, what would this do to exhibitor interest in the conference? Social distancing was non-existent in POC 2020.
Next Meeting
The second Monday in May (5/11/2020)
Adjournment
The meeting was adjourned at 7:30 PM.

---

Observations from the 2020 International Conference on Polyolefins
The demographics of the registrations from the 2020 Conference were the following:

Additive Companies 204 (31%)
Compounding Companies 33 (5%)
Distribution Companies 26 (4%)
Equipment Suppliers/Companies 50 (7%)
Film Converters 10 (1%)
Manufacturing/Converting Companies 11 (2%)
Packaging Companies 8 (1%)
Polymer-resin Manufacturers 138 (21%)
Service Companies 78 (12%)
Universities 91 (14%)
Press 4 (<1%)
Other 7 (1%)
Total 660
---
The breakdown of the exhibitors from the 2020 Conference was the following:
Additive Suppliers 30 (47%)

Compounding Companies 4 (6%)
Distribution Companies 4 (6%)
Equipment Suppliers 16 (25%)
Film Converters 0 (0%)
Manufacturing/Converting Companies 0 (0%)
Packaging Companies 0 (0%)
Polymer-resin Manufacturers 1 (2%)
Service Companies 7 (11%)
Universities 2 (3%)
Other 0 (0%)
Total 64
---
Analysis of All Registrations:
Committee Member Registrations 41 (6%)
Exhibitor Registrations 90 (14%)
Guest Registrations 18 (3%)
Press Registrations 8 (1%)
Speaker Registrations 94 (14%)
Sponsor Registrations 15 (2%)
Student Registrations 64 (10%)
Paid Registrations 293 (45%)
Exhibit Hall Only Registrations 29 (4%)
SPE Emeritus Member Registrations 7 (1%)
---
Plastics Information: Check It Out
Houston Public LibraryThe Houston Public Library on McKinney has resources on plastics and polymers. Check out their catalog. If you are not near the McKinney location, you can arrange to pick up your books at your local branch.
The Fondren Library at Rice University has the most complete collection of books on plastics and polymers. This is also a prime resource for patent and trademark information, as well as other US Government documents. You cannot check out books there unless you join Fondren Library [$50], but you can arrange for books to be sent to your library by inter-library loan. Use their catalog.
The next best place to browse is at the MD Anderson Library at the University of Houston central campus. South Texas Section has donated many plastics books to this library. If you plan ahead, you can get a TexShare library card from a library where you are a member, which will allow you to check out books from any U of H library. Their catalog is here.


---
Calendar of Events
| DATE | EVENT | LOCATION | TIME |
| --- | --- | --- | --- |
| June | Regional/Americas/Global Topics | | TBD |

---
Board of Directors
Section Officers
President
Peter Lauzon
Plastic Pipeline Integrity
President Elect
Iman Bahrani
Omya, Inc
Past President 
Steve King
Solvay
Vice President 
Dell Doyle
Dow Chemical
Secretary
Tom Walsh
Walsh Consulting
Treasurer
Richard Keeler
Kisuma Americas
Councilor
Robert Portnoy
Portnoy Technical Services

Committee Chairpersons
Awards Committee Chair –
Kevin Alexander
KWATech, Inc.

Education Committee Chair –
David Hansen
SBC Consulting

Housing
Renee Colyer
J. M. Huber Corporation

Membership Committee Co-Chairs

Chuck Crosby
Braskem Americas

Tom Walsh
Walsh Consulting Services

Newsletter –
Iman Bahrani
Omya, Inc.

Technical Program
Dell Doyle
Dow Chemical

Young Professional Chair
Robert Portnoy
Portnoy Technical Services
Polyolefins 2020 Chair
Fernando Cevallos Candau
W.R. Grace
Sporting Clays
Peter Lauzon
Plastic Pipeline Integrity

Board Members
David Hansen
SBC Polymers consulting
Robert Portnoy
Portnoy Technical Services
Monica Rodriguez
Kisuma Americas
John Wagner
Consultant
Preston McDaniel
Dow Chemical
Matt Zwick
Tarquin
Clifford Lee
Townsend Solution

---
Web Content/Section Coordinator
Janell Helton
Houston, TX 77084
713-503-6729
jdhelton@comcast.net

---