---
President's Message
Greetings,

I was so glad to see and talk to many of you that attended our September social outing at the Astros Baseball game. It would have been even better if the Astros also showed up to play, however it was only their second home-game loss for this season.
As indicated before, SPE-STX is trying some new things to extend our ability to raise scholarship funds. The Sporting clays event scheduled November 13th is such an event and I hope each of you attends and possibly sponsors a team. It will be a great gathering with prizes and friendly competition, but it only works if you participate. Please see registration and sponsorship details on our website Event Page.
In December we're planning a meeting at Dave and Busters (Date TBD) We'll plan both a technical talk along with fun, food and games for all to participate.
I'll close by asking each of you to help the organization. The old motto "many-hands make for like work" comes to play. SPE-STX has many ways to participate, volunteering for the Polyolefins annual conference, being a coordinator for many of the Universities we support (Texas Tech Coordinator is open), golf outing chairperson, and serving on the board. More information can be found on our website.

Sincerely,
Peter Lauzon, President

---
Large Attendence at Our Kickoff Social at Minute Maid Park
Dollar Hotdog Night was great but the Astros lost 21-7 Against the Oakland A's. Astros go into the playoffs with the best record in baseball. Go 'stos!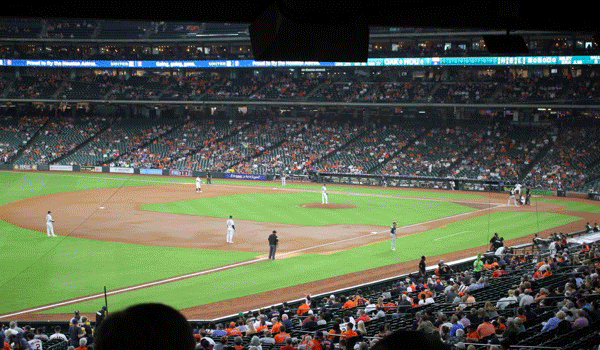 ---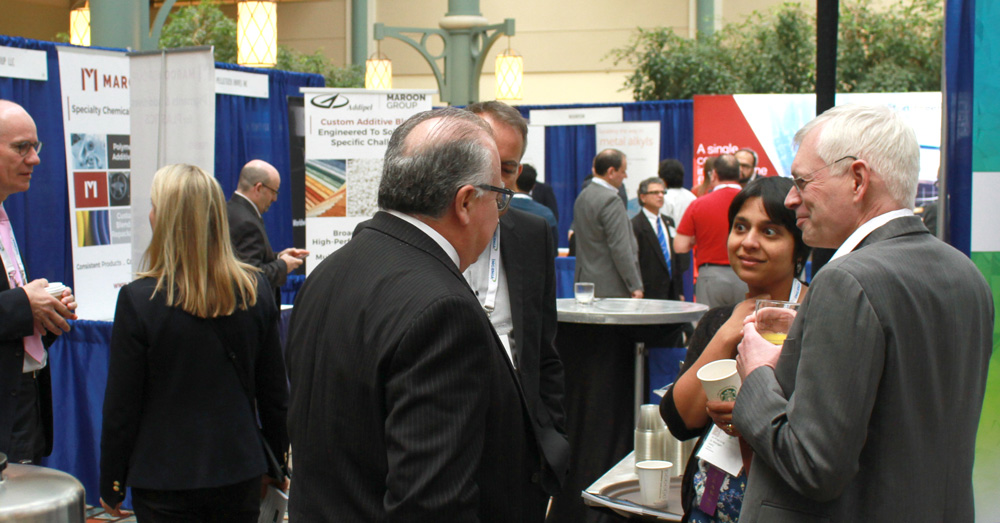 Registration is now open for the Polyolefins Conference 2020
February 23-26, 2020
Hilton Houston North, Houston Texas
12400 Greenspoint Dr. Houston, TX 77060
Multiple Conference Programs Are in The Works
The SPE South Texas Section, the SPE Polymer Modifiers and Additives Division, the Thermoplastic Materials and Foams Division, Engineering Properties and Structural Division, and the Flexible Packaging Division are organizing technical sessions for the 2020 SPE International Conference.
---

---

---
Mark your calendar and join us for the first SPE-STX Sporting Clays Shoot Fundraiser this November
Sporting clay shoots are played like golf events. Each participant shoots at targets and mark their scorecards with either a "hit" or "miss" mark. Participants shoot from different stations similar to golfers playing 18 holes.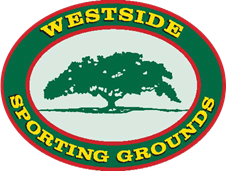 Date
November 13, 2019

Times
9:00-11:00 Corporate-sponsored games and warm-up
11:00-12:30 Registration and quick lunch
12:30-1:00 Safety talk and get to starting to first station
1:00-4:00: Tournament
4:00-6:00: Dinner and prizes

Meals included and provided by Jerry Mikeskas BBQ & Catering
Lunch: Pulled pork sandwiches and fixings (grilled chicken alt)
Dinner: BBQ brisket and sausage (grilled chicken alt)

Fees
$180 (Playerwill be placed on a team)
$720 (Corporate team of 4 players)
Register Here
Sign up today!


Corporate sponsorship opportunities are available.

Location
Westside Sporting Grounds
10120 Pattison Rd.
Katy, TX 77493

Visit the Westside Sporting Grounds Website

---

---
Transient modeling of viscosity
Amir Moshe
The viscoelastic behavior of polymer melt is a significant factor during
rheological characterization and should be taken into account during
analysis and viscosity modeling.

---
South Texas SPE 2019-2020 Board Meeting
Minutes of the Meeting of the South Texas Board of the Society of Plastics Engineers – 9/09/2019
The SPE-STX BOD meeting was held at the Houston Technology Center. Dinner to follow.
In–person attendees
Peter Lauzon, President
Steve King, Past President
Tom Walsh, Secretary

Teleconferenced attendees
Janell Helton
Dell Doyle, Vice President
John Wagner, Member at Large
Richard Keeler, Treasurer
Iman Bahrani
Opening: Peter Lauzon opened the Board meeting at 6:03 PM.
Agenda-Approval of Minutes
Agenda: The agenda was presented by President Peter Lauzon
August Minutes: Peter Lauzon moved to approve the minutes of the August Meeting of the Board. Tom Walsh seconded the motion. The motion passed by unanimous vote.
Councilor Report:
Robert Portnoy attended the last Councilors meeting. He reported previously on this.
Financials
Janell Helton reported that our current balance is $133,805 in checking and $119,113 in savings.
Richard Keeler reported:

Upcoming payments to our SPE Division partners from POC 2019 totaling about $40,000.
Ken Thomet does our IRS filings. Janell provide the data to him. There is an outstanding invoice to Ken for $800.

Steve King reported on his investigations into a Brokerage Account for the South Texas Section based on an investment of $100,000:

Chase Bank proposed three options
▪ 3 to 5 month CD returning 1.9%
▪ 6 to 8 month CD returning 1.73%
▪ 21 to 23 month CD returning 1.41%

JP Morgan Investments offered:
▪ Short Term Investment (1 year) Balance Fund return on average of 11%
▪ Income Fund Investment - Balanced Fund (3 to 5 years)

CCC Stocks – High Risk (Junk Bonds) – long term return of 7.1%
AAA Stocks – return of 5% to 6%

The Board, in its discussions, decided:


The Chase CDs did not provide an adequate return

The JP Morgan short term (1 year) investment was too risky.
The JP Morgan Income Fund has too many fees (average return after fees was 4.5%).


Peter Lauzon contacted Ken Thomet who stated that an investment of this type is not a problem unless investment income exceeds 30% of our total income.
Dell Doyle stated that other investment options might be better such as Fidelity (30 day rolling investment), Merrill Lynch Money Market (returns of 2.5%), Ameritrade, or other banks (Allied Bank, BMO Harris Bank (2.35%).

Programs
Dell Doyle reported that tickets for the September 10th Astros game will be available at the Will Call Window. The South Texas Section purchased 54 tickets. Jeff Applegate purchased a block of tickets also adjacent to our section.
The October meeting will be on October 24th tentatively at the Karbach Brewery. Colortech will be making the technical presentation.
Monthly Meeting Schedule
---

---

---

---

---

Month


---

---

Program


---

---

Location


---

September

ASTROS Game - 9/10/2019

Minute Maid Park

October

Technical Talk - 10/24/2019

Dave & Buster's

November

Sporting Clays Event

Westside Sporting Grounds

December

??

January

Open

February

2020 Int'l Polyolefins Conference

March

Golf Outing - 3/24/2020

April

May


---

---

---

---




---

Sporting Clays Event
Pete Lauzon reported that fees will be $180 per person with mulligans $20. Teams to be 4 individuals. There are 26 items set up for sponsorships. Pete has 2 sponsors already.

Insurance will cost $365 for this event.

The club has requested a down payment of $1000 and the check has already been sent.

We have guaranteed a minimum of 60 individuals (15 teams).

To date 4 teams (12 persons so far) have signed up.

Dell Doyle asked for more information. He has some customers that might be interested.
Membership
Tom Walsh reported that our membership has dropped to about 310. He will provide a more detailed analysis separately.
Education
David Hansen is travelling. It was mentioned that setting up the Baylor scholarship has left only $50,000 with a $20,000 cushion in our accounts. So we do not have our usual levels of funding available for education funding.
Board Membership
We have two open Board positions for members-at-large.
Awards Committee
We need to re-establish this committee. Currently we do not have a chair for this committee.
Steve King and Janell Helton have set up speaker awards.
Housing Committee
There is an open position for Chair of the Housing Committee.
New Business
Peter Lauzon reported that the policy manual for the South Texas Section was last updated in 1991. Copies of the policy manual are available on the website. At the next meeting
Pete will ask for a volunteer to review and revise individual sections of the manual.
Dell Doyle asked that Preston McDaniel be included on the mailing list.
The Breakfast Bunch will meet on Tuesday October 8th.

Next Meeting

The second Monday in October (10/14/2019)

Adjournment

Adjournment: The meeting was adjourned at 7:00 PM.

---
Plastics Information: Check It Out

Houston Public LibraryThe Houston Public Library on McKinney has resources on plastics and polymers. Check out their catalog. If you are not near the McKinney location, you can arrange to pick up your books at your local branch.
The Fondren Library at Rice University has the most complete collection of books on plastics and polymers. This is also a prime resource for patent and trademark information, as well as other US Government documents. You cannot check out books there unless you join Fondren Library [$50], but you can arrange for books to be sent to your library by inter-library loan. Use their catalog.
The next best place to browse is at the MD Anderson Library at the University of Houston central campus. South Texas Section has donated many plastics books to this library. If you plan ahead, you can get a TexShare library card from a library where you are a member, which will allow you to check out books from any U of H library. Their catalog is here.

---
Calendar of Events
| DATE | EVENT | LOCATION | TIME |
| --- | --- | --- | --- |
| November 13 | Sporting Clays Event | Westside Sporting Grounds | All Day |
| December | Technical Talk/Social | Dave & Busters | |
| February 23-26 | Polyolefins Conference | Hilton Houston North | All Day |

---
Board of Directors
Section Officers
President
Peter Lauzon
President Elect
Iman Bahrani

Past President
Steve King
Vice President
Dell Doyle

Secretary
Tom Walsh

Treasurer
Richard Keeler
Councilor
Robert Portnoy
Members at Large
David Hansen
Robert Portnoy
Clifford Lee
Chris Jorgenson
Monica Rodriguez
John Wagner
Preston McDaniels
Pau Arjanan
Matt Zwick

Committee Chairpersons
Awards Committee Chair –
Kevin Alexander
KWA-Tech, Inc.

Golf Outing
Ryan Reese
Dover Chemical

Education Committee Chair –
David Hansen
SBC Consulting

Housing
Ryan Reese
Dover Chemical

Membership Committee Co-Chairs
Chuck Crosby
Braskem Americas

Tom Walsh
Walsh Consulting Services

Newsletter –
Iman Bahrani
Omya, Inc.

Technical Program
Dell Doyle
Dow Chemical

Young Professional Chair
Polyolefins 2017 Chair –
Robert C. Portnoy
Portnoy Technical Services LLC

Board Members
Steve King
Solvay

Kevin Alexander
KWA-Tech, Inc.

Iman Bahrani
Omya, Inc.

Bill Diecks Retired

David Hansen
SBC Consulting

David Grice
C&K Plastics

Dell Doyle
Dow Chemical

Tom Walsh
Walsh Consulting Services, Inc.

Peter Lauzon
Peal Processing


---
Web Content/Section Coordinator
Janell Helton
Houston, TX 77084
713-503-6729
jdhelton@comcast.net

---