---
President's Message
Dear SPE-STX Members,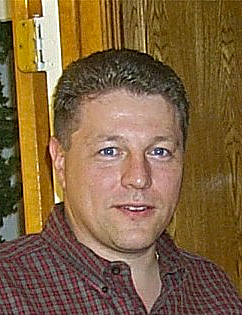 As we wind down 2019 this December, on behalf of our board members I'd like to wish each of you and your family a Joyous Holiday and prosperous New Year. 
We ended the 2019 year with a very well attended party at Dave and Busters. This January 8 at 11 am, at the Houston Federal Reserve Bank we'll have a combined event with the MIT Forum on their annual January meeting detailing the USA economic outlook. A second meeting combined with the Business Analytics Society on 3D Printing is also being scheduled; notification to SPE-STX members will be sent shortly. I hope you can attend some of these shared events to broaden SPE-STX's efforts to find and hold engaging monthly topics.
Several announcements were already sent via SPE International and our local SPE-STX chapter announcing Polyolefin Conference 2020 and I hope that you can attend. SPE-STX will hold a social for members during this event and of course chapter members are welcome to volunteer at the POC-2020 event. The 2020 POC will be held February 23-26th at Hilton North (Greenspoint) Houston, TX. For more information please visit our website at www.spe-stx.org.
Sincerely,
Peter Lauzon, President
---
The SPE South Texas Section is dedicated to supporting education
There are 9 universities in Texas who have polymer programs and a SPE Student Chapter that benefit from SPE South Texas. Over 50% of the South Texas earnings from the SPE International Polyolefins Conference are used to support the education program which runs $50,000 to $95,000 per year.
The following educational programs are supported:
Each University SPE Student Chapter receives $1,100 to $1,400 to support their activities which involve meetings with guest speakers and field trips. There are 9 SPE Student chapters (University of Houston, Texas A&M, University of Texas, Lamar University, Baylor University, North Texas University, Texas State University, Texas Tech University, Texas State Technical College Harlingen).
Depending upon funds available, each of the 9 Universities with SPE student chapters receives $2,000- $3,000/year for student scholarships which is administered by the University.
We have a dedicated group of people who judge at the Houston Science Fair and award prizes to students that range from $100 to $500 when the Science Fair does not conflict with the Polyolefins Conference. In May the Science Fair winner attend a South Texas monthly meeting with their parents and/or teacher to receive their awards. Edgard Chow is responsible for the science fair activities.
Active South Texas Section members can apply for scholarships for their children or grandchildren who live in Texas. Scholarships are up to $2,500 depending upon the number of qualified applicants.
We have created ten $25,000-$50,000 endowed scholarships over the last 40 years that the schools administer.

Texas State – Bounita Favorite Endowment
Tech Tech – Mark Demark Endowment
Lamar University – Bill Kuhlke Endowment
Texas A&M – Dale Walker Endowment , Henry Kahn Endowment
University of Texas – Marion Johnson Endowment, Larry Holmes Endowment
University of Houston – Frank Padula Endowment
Baylor University – Walter Bradley Endowment

When sufficient funds are available we have provided money for equipment at the Universities based on requests and sufficient justification.
In addition the South Texas SPE Section organizes the SPE International Polyolefins Conference in Houston every year. As part of the conference we:
Give free registration and room and board to 5 students from each SPE student chapter to attend the Polyolefins Conference every year

Have a free student dinner to talk about careers in plastics

Have a poster competition for University Students with prizes ranging from $100-$500

Award six $1,000 scholarships.
The South Texas Educational Liaisons serves an important role in providing an important communication link between the Universities and the South Texas Chapter. The following members presently served as liaisons:
Jeff Applegate – Baylor University (top 3 national SPE chapters 2015- 2019)
David Hansen – Texas A&M (top 3 national SPE student chapters 2014-2019)
Pete Lauzon – Texas Tech University
David Hansen – University of Houston
Aliene Elkins – University of North Texas
Glen Rasberry – Texas State University
Oscar Garcia – Texas State Technical College Harlingen
We need liaisons for the following schools:
University of Texas – new chapter as of last year
Lamar University – Fred Morita has covered this chapter for years and would like to retire
Please contact David Hansen if you are interested in serving as an educational liaision.
The faculty advisers for each school are important for the success of the student chapters. Our faculty advisers are:
David Jack – Baylor University
Hung-Jue Sue – Texas A&M
Greg Mckenna – Texas Tech University
Megan Robertson – University of Houston
Nankika D'Suouza – University of North Texas
Christopher Rhodes – Texas State University
Ricardo Limas – Texas State Technical College Harlingen
Nathaniel Lynd – University of Texas
Paul Bernazzani – Lamar University
The South Texas SPE section is proud to be supporting University student in polymer programs in Texas and students of our active Section members.



---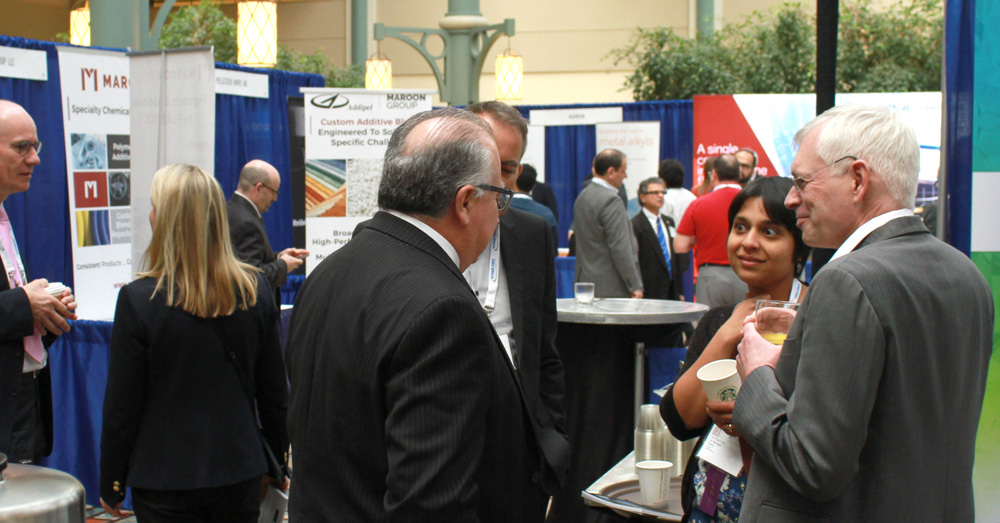 Registration is now open for the Polyolefins Conference 2020
The SPE International Polyolefins Conference is the largest Polymer Conference in the world dedicated to Polyolefins. The Conference is a great place to meet your customers, your suppliers, and your associates as well as hearing about the latest Developments and Technology. There are typically over 700 people attending the conference which will have 84 technical papers, 5 Keynote Plenary talks, a Sunday afternoon Polyolefins Tutorial, 64 exhibitor booths, two evening networking socials, and a student poster competition.
The SPE South Texas Section, the SPE Polymer Modifiers and Additives Division, the Thermoplastic Materials and Foams Division, Engineering Properties and Structural Division, and the Flexible Packaging Division are organizing technical sessions for the 2020 SPE International Conference (Feb 23-26 in Houston, TX) in the following areas:
Current Trends in Markets, Technology, and Investments

Innovation in Polyolefin Catalysts and Process

Advances in Polyolefin Stabilization

Modifiers for Polyolefins

Advances in Polymer Testing and Characterization

Flexible Packaging

3D Printing

Advances in Compounding

Polyolefin Pipe Applications

Sustainability & Recycling

Enhancement of functional polyolefin properties for applications

---


---
New Faces Seen at the Holiday Social/Technical Meeting at Dave & Buster's
It was great to see new faces and long time supporters of SPE South Texas at our December Social where Zach Moore of ICIS gave an informative talk about the challenges and opportunities for the US Polyolefns market heading into 2020.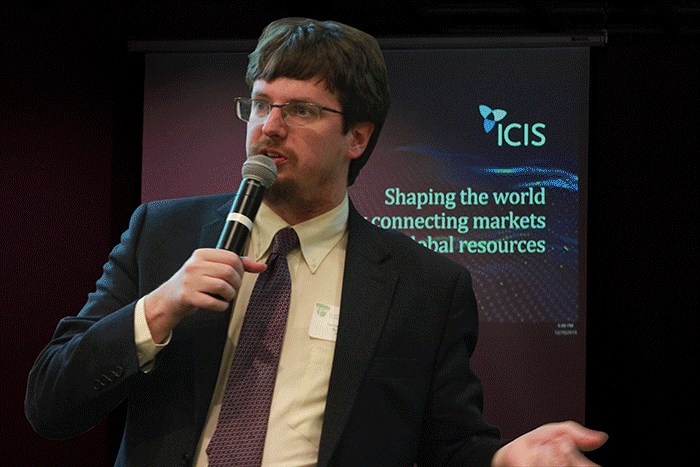 ---

---
Baylor Student Chapter Members Attended Our December Social
In an effort to build professional relationships and connect with Baylor's sponsoring South Texas SPE section, three students representing the Baylor Student Chapter attended our December Social along with Dr. David Jack, Associate Professor and Dr. Blake Heller, a recent alumni of the Baylor program.  Should you wish to contact any of these students email Dr. David Jack
Timothy Russell is working on his PhD under the direction of Dr. David Jack. He has a unique blend of the computational and math aspects of polymer processing of thermoplastics with chopped fiber reinforcement, and has coupled his computational work with extensive experimental characterization. He fabricated our large area additive manufacturing (LAAM) system that is capable of extruding up to 25 lbs/hour of carbon fiber reinforced thermoplastic for printing tooling with a significantly reduced CTE. He also in heavily involved in our FAA Materials Equivalency effort. Timothy is also the current Baylor SPE student president and has published 4-5 papers in different SPE conferences and journals.

---

Nate Blackman is working on his PhD under the direction of Dr. David Jack. He is a very practical hands-on engineer and loves building and constructing new things. He focuses on ultrasound and inspection techniques for identifying foreign objects within laminated composites and has been involved in several FAA Certification efforts. Nate spent last summer as a graduate research intern at the Ford Research Labs in Dearborn, and has already written a successfully funded 3 year proposal that fully funds a doctoral student. Nate has attended and presented at 4-5 SPE and several ASNT conferences. Last year he won first place in the ANTEC student poster competition and third place in the ACCE student poster competition.

---

Akash Pisharody is working on his PhD under the direction of Dr. Douglas Smith. His background is in modeling of damage propagation in laminated composites. He also is quite strong in the area of experimental validation and characterization for structural testing and is gaining experience in manufacturing of composite structures. Akash has several conference and journal publications and has presented in at least 2 different SPE conferences (it may be more, but I can recall seeing his talks twice). Akash is quite strong in thermal characterization techniques and imaging along with his core work in the area of structural testing and finite element model validation.
---


---
Using chemical blowing agents to make microcellular nanocomposites
Miguel Angel Rodriguez-Perez, Paz Garcia, Juan Arevalo, Cristina Saiz, Eusebio Solorzano, and Jose Antonio de Saja
A novel experimental setup for producing foams offers the advantages of simplicity and improved properties over conventional means of fabrication.


---
South Texas SPE 2019-2020 Board Meeting
Minutes of the Meeting of the South Texas Board of the Society of Plastics Engineers – 11/11/2019
The SPE-STX BOD meeting was held at the Houston Technology Center. Dinner to follow.
Attendees

In – person attendees


---

Teleconferenced attendees


---

Peter Lauzon, President
Janell Helton
Steve King, Past President
Iman Bahrani, President Elect
Richard Keeler, Treasurer
Dell Doyle, Technical Program Chair
Tom Walsh, Secretary
John Wagner, Member at Large
Robert Portnoy, Councilor
David Hansen, Education Chair

---

---
Opening
Peter Lauzon opened the Board meeting at 6:10 PM.
Approval of Minutes
October Minutes: Steve King moved to approve the minutes of the September Meeting of the Board. Robert Portnoy seconded the motion. The motion passed by unanimous vote.
Councilor Report
Robert Portnoy reported that the next Councilors meeting will be on November 14 and 15 at SPE Headquarters in Connecticut. He will attend the meetings.
Treasurer Report
Richard Keeler reported the following:
Checking account balance = $165,000.

Savings Account balance = $115.00

Our annual IRS filings will occur this month.

Our annual finances were slightly lower this year due to delayed payments to our Polyolefin Conference partners, the funding of the Baylor scholarship ($50,000) and slightly higher operating expenses.
Programs
Monthly Meeting Schedule
Month


---

Program

---

Location


---

December
Dave & Buster's
I-10 west of 610
January
Open
February
2020 Int'l Polyolefins Conference
Hilton Houston North
March
Open
TBD
April
Golf Outing
TBD
May
Open
TBD

---

---

---
Sporting Clays Event
Pete Lauzon reported that this event was cancelled.
Membership
Tom Walsh reported that our membership is steady at 303. A report showing membership changes since January 2018 is attached.
Education
David Hansen proposed an Education Budget as shown below:
| | | |
| --- | --- | --- |
| Item | | Amount |
| --- | | --- |
| Student Chapter Support | | $10,800 |
| Scholarship Funding | | $20,700 |
| Family Scholarship Funding | | $15,000 |
| Endowment Contributions | | $0 |
| Equipment Funding | | $0 |
| Science Fair Funding | | $3,500 |
| Total 2019-2010 Education Budget | | $50,000 |
| --- | | --- |
Robert Portnoy moved to approve the Education Budget as presented. Richard Keeler seconded the motion. The motion passed by a unanimous vote.

David Hansen reported that we support a total of nine Texas Universities and Colleges. The schools and the South Texas liaisons to each school are shown below. David pointed out that we need more liaisons and we need better connections to the school and student chapters we are supporting. We need to better understand how each student chapter is operating. Baylor and Texas A&M provide annual reports on their activities. The fundamental question is that we have been supporting each of these schools and the student chapters for several years – What has our support achieved?

Tom Walsh will provide an analysis of current student SPE memberships.
| | | |
| --- | --- | --- |
| University/College | | STX Liaison |
| --- | | --- |
| Baylor University | | Jeff Applegate |
| Lamar University | | No Liaison |
| Texas A&M University | | David Hansen |
| Texas State University – San Marcos | | Glenn Rasberry |
| Texas State Technical College – Harlingen | | Oscar Garcia |
| Texas Tech University | | Steve King |
| University of Houston | | David Hansen |
| University of North Texas | | Aliene Elkins |
| University of Texas at Austin | | Steve King |
| --- | | --- |
Steve King suggested that we should investigate making presentations to the student chapters at the schools we are supporting. It was discussed that we have done this in the past. Steve will investigate this concept and report on it.
New Business
No items were brought up
Next Meeting
The second Monday in December (12/9/2019)
Adjournment
The meeting was adjourned at 7:20 PM.
---
Membership has increased slightly 303 to 305 as of December 7
| | | | | |
| --- | --- | --- | --- | --- |
| --- | | --- | | --- |
| Professional memberships   | | 211 | | (unchanged) |
| Young Professional Memberships  | | 7 | | (-1) |
| Student Memberships | | 50 | | (+3) |
| Emeritus Memberships  | | 20 | | (unchanged)  |
| Distinguished Memberships  | | 3 | | (unchanged)  |
| New Young Professional Members | | 14 | | (unchanged)  |
| Total | | 305 | | (+2) |
| --- | | --- | | --- |
---
Plastics Information: Check It Out

Houston Public LibraryThe Houston Public Library on McKinney has resources on plastics and polymers. Check out their catalog. If you are not near the McKinney location, you can arrange to pick up your books at your local branch.
The Fondren Library at Rice University has the most complete collection of books on plastics and polymers. This is also a prime resource for patent and trademark information, as well as other US Government documents. You cannot check out books there unless you join Fondren Library [$50], but you can arrange for books to be sent to your library by inter-library loan. Use their catalog.
The next best place to browse is at the MD Anderson Library at the University of Houston central campus. South Texas Section has donated many plastics books to this library. If you plan ahead, you can get a TexShare library card from a library where you are a member, which will allow you to check out books from any U of H library. Their catalog is here.

---
Calendar of Events
| DATE | EVENT | LOCATION | TIME |
| --- | --- | --- | --- |
| February 23-26 | Polyolefins Conference | Hilton Houston North | All Day |
| April | Golf Outing | TBD | |

---

Board of Directors
Section Officers
President
Peter Lauzon
Plastic Pipeline Integrity
President Elect
Iman Bahrani
Omya, Inc
Past President 
Steve King
Solvay
Vice President 
Dell Doyle
Dow Chemical
Secretary
Tom Walsh
Walsh Consulting
Treasurer
Richard Keeler
Kisuma Americas
Councilor
Robert Portnoy
Portnoy Technical Services

Committee Chairpersons
Awards Committee Chair –
Kevin Alexander
KWATech, Inc.

Golf Outing


Education Committee Chair –
David Hansen
SBC Consulting

Housing
Renee Colyer
J. M. Huber Corporation

Membership Committee Co-Chairs

Chuck Crosby
Braskem Americas

Tom Walsh
Walsh Consulting Services

Newsletter –
Iman Bahrani
Omya, Inc.

Technical Program
Dell Doyle
Dow Chemical

Young Professional Chair
Robert Portnoy
Portnoy Technical Services
Polyolefins 2020 Chair
Fernando Cevallos Candau
W.R. Grace
Sporting Clays
Peter Lauzon
Plastic Pipeline Integrity

Board Members
David Hansen
SBC Polymers consulting
Robert Portnoy
Portnoy Technical Services
Clifford Lee
Townsend Solutions
Chris Jorgenson
Monica Rodriguez
Kisuma Americas
John Wagner
Consultant
Preston McDaniels
Dow Chemical
Pau Arjanan
Matt Zwick
Tarquin


---
Web Content/Section Coordinator
Janell Helton
Houston, TX 77084
713-503-6729
jdhelton@comcast.net


---